Office of Native American Programs (ONAP)
---
Section 184 reopens for issuing case number and loan guarantee certificates 
October 11, 2018
Beginning on Thursday, October 11, 2018, HUD will reopen the Section 184 Program for processing for cohorts, case numbers and loan guarantee certificates for Fiscal Year 2019.
---
HUD Technical Assistance Opportunity for Homelessness On and Off Tribal Lands.  Deadline: OCTOBER 19, 2018
October 3, 2018
HUD's Ofice of Special Needs Assistance Programs (SNAPS) technical assistance (TA) opportunity is targeted for organization serving American Indians and Alaska Natives (AI/AN) experiencing homelessness both on and off tribal lands. The goal of this TA initiative is to strengthen partnerships between Tribal communities, urban native communities, homeless crisis response systems, state and local partners, trade associations, and other relevant stakeholders, to decrease the number of AI/AN households experiencing or at risk of experiencing homelesness by increasing their access to permanent housings. To be considered as a TA participant, complete the Interest Form and email your form to LindaLee Retka at lretka@naihc.net no later than October 19, 2018.  
---
ONAP Best Practices Webinar Series featuring: Lummi Nation Housing Authority 
September 25, 2018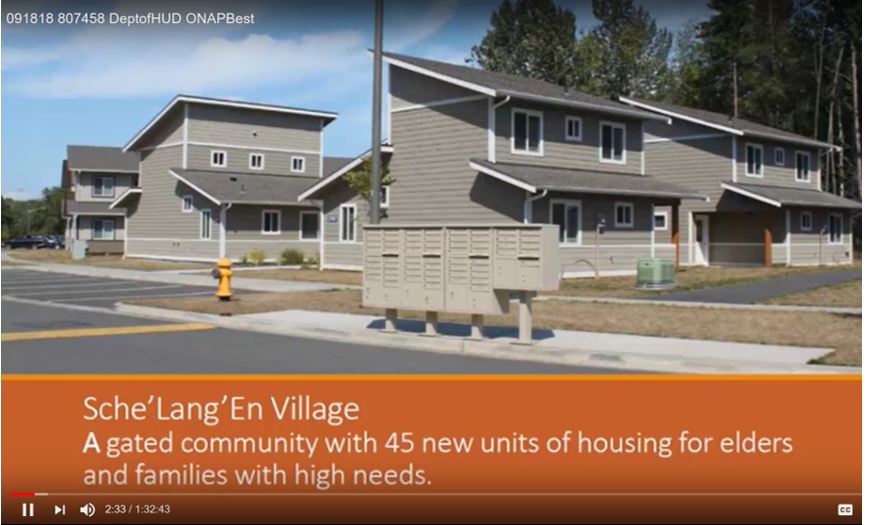 On September 18th, HUD Deputy Assistant Secretary, Heidi Frechette, interviewed Diana Phair, Executive Director of the Lummi Nation Housing Authority about their Sche'Lang'En (Our Way of Life) Village, a 45-unit gated Transformational Housing with Supportive Services.  Housing is intended for individuals and families making transformational life changes and/or recovering from homelessness, domestic violence, substance use disorders, and looking to reunify with their children.  Utilizing a $5,600,000 Title VI loan to complete the project, the detached homes are clustered in pods of four with a shared covered alcove to encourage families to get to know one another.  The village features walking paths encourage exercise; community facility used for weekly meetings, playgrounds, and, a community garden provides fresh vegetables for families.
Download webinar materials:
---
View Archive - What's New on Codetalk Highlights
Questions? Contact the ONAP Web manager.
ONAP Offices and Tribal Contacts