Office of Native American Programs (ONAP)
---
NOFA Webinar: FY2018 ROSS webinar - Friday, June 22nd @ Tribal Healthy Homes Grant - Wed, Jun 20th @ 1:00 PM EDT
June 19, 2018
HUD makes available up to $35 million in grant funds. This live webcast will walk through the FY 2018 ROSS NOFA and application process.  On June 22, please click this link below to view the Live Webcast.
Link: With Captions - http://portalapps.hud.gov/HUDMediaChannel/liveplayer.jsp
Without Captions - http://portalapps.hud.gov/HUDMediaChannel/liveplayer_secondary.jsp
This live webcast will be recorded.  
---
Tribal HUD-VASH Renewal PIH Notice 2018-10 published June 11th 
June 19, 2018
Procedural Guidance for Tribal HUD-VA Supportive Housing Renewal Grant Applications - This Tribal HUD-VA Supportive Housing (Tribal HUD-VASH) notice announces renewal requirements and procedural guidance for existing recipients of the program.  This notice specifies the criteria for renewal grants, including data on the utilization of assistance reported by grant recipients under the demonstration program.  Read the full text HERE.  
---
Amended Income Limits under NAHASDA Program Guidance 2018-03a Published
June 18, 2018
This guidance amends Program Guidance 2018-03 (originally published May 11, 2018) with corrected HUD Income Limits under the Native American Housing Assistance and Self-Determination Act of 1996 (NAHASDA).  Read the full Guidance HERE.  
---
NOFA Webinar: Tribal Healthy Homes Grant - Wed, Jun 20th @ 1:00 PM EDT
June 14, 2018
HUD's Office of Lead Hazard Control and Healthy Homes Tribal Healthy Homes Production (HHP) Grant provides $12 million, grant amounts are minimum $500K to maximum $1M.  During this webinar, review the NOFA and Scope of Work with potential applications with Q&A session.  Presenters are:
Michelle Miller

, HUD, Office of Lead Hazard Control and Healthy Homes

Jerry Freese

, HUD, Office of Lead Hazard Control and Healthy Homes
The purpose of the HHP program is to assist American Indian and Alaska Native tribal governments to identify and remediate housing related health and safety hazards. This program will assist American Indian and Alaska Native tribal governments to develop comprehensive programs to identify and remediate housing issues that contribute to health and safety issues in urban and tribal communities.  Application deadline is July 18, 2018. APPLY HERE. 
---
Environmental Regulatory Reform - Comment period expires Monday, June 18th
June 14, 2018
The U.S. Department of Housing and Urban Development (HUD) invites your Tribe to engage in government-to-government consultation before and during the re-drafting of its environmental regulations that affect HUD's Indian programs. Read the Dear Tribal Leader letter HERE.  You may also send comments or ideas to streamline the HUD environmental review regulations to EnvironmentalPlanningDivision@hud.gov.  Comment period expires Monday, June 18th.
---
ROSS Service Coordinators Webinar Series: Resident Engagement Strategies
June 13, 2018
This webinar is the first in a series of three webinars designed to present in-depth information for use by Resident Opportunities and Self Sufficiency (ROSS) service coordinators. The goal of this series is to present best practice information on resident engagement strategies, connection with career pathways and use of motivational interviewing.
DATE: June 14, 2018 | 2:00 PM - 3:00 PM EDT REGISTER HERE
---
Vacancy Announcement! Administrator, HUD's Office of Native American Program, GS-1101-15, Seattle, WA. The deadline to apply is June 25th
June 12, 2018
The Office of Native American Programs (ONAP) is responsible for policy development and implementation of all ONAP programs in the assigned geographical area. The primary focus of the Administrator' efforts is to ensure the effective and efficient linkages among key parties such as Tribal officials, Tribally Designated Housing Entity (TDHE) directors, tenant groups, associations, other Federal agencies, and Departmental staff.
Internal Federal posting Apply Here: http://www.usajobs.gov/GetJob/ViewDetails/501969900
External posting - Open to the Public Apply Here: http://www.usajobs.gov/GetJob/ViewDetails/501970500
---
YouthBuild Grant Opportunity (Dept. of Labor).  Deadline to Apply is September 18, 2018
June 10, 2018
Grants to provide pre-apprenticeship services that support education, occupational skills training, and employment services to at-risk youth, ages 16 to 24, while performing meaningful work and service to their communities.  In addition to construction skills training, YouthBuild applicants may include occupational skills training in other in-demand industries.  This expansion into additional in-demand industries is the Construction Plus component, a priority in this grant competition. 
Expect to award 85 grants ranging from $700,000 to $1.1 million and require a 25 percent match from applicants, using sources other than Federal funding.
---
Housing Counselor Certification Training webinars this summer! 
June 8, 2018
Attend webinars on all six HUD competencies to prepare for the HUD certification exam. Each topic will be covered three times in 2018 for your convenience. All times are 2:00 - 4:00 PM Eastern.
Recorded Webinar Videos:
---
Homeownership Data from the Center for Indian Country Development Reservation Profiles Database
June 8, 2018
Using data collected from the Census Bureau's American Community Survey and Home Mortgage Disclosure Act, the Reservation Profiles Database explores key demographic, economic, and homeownership indicators for American Indian reservations (with at least 2,500 residents).  For more information about the data underlying the tables and figures in each profile, see About the Data. Comments about this page are welcome at cicd@mpls.frb.org.
---
June is National Homeownership Month!
June 8, 2018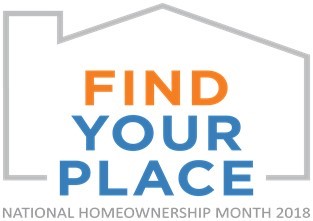 June marks National Homeownership Month 2018! This year's theme is "Find Your Place," an active invitation to current and potential homebuyers to partner with HUD-approved housing counseling agencies and explore the many ways that housing counseling can open the door to responsible and sustainable homeownership.  The HUD Office of Housing Counseling has moved to a new website. Visit us at the HUDExchange. Please reset your bookmarks and favorites:
---
June is Healthy Homes Month! 
June 6, 2018
Visit HUD's National Healthy Homes Month webpage for a resource toolkit to provide your organizations with key materials and resources to help and encourage local implementation. Tune in to these upcoming webinars:
---
FY 2019 Indian Housing Block Grant Formula Estimates
June 1, 2018
Published June 1st, FY 2019 Formula Estimates for the Indian Housing Block Grant Program are available HERE.   
---
FY18 ROSS NOFA Published.  Application deadline is July 30, 2018
June 1, 2018
The Resident Opportunity & Self Sufficiency Service Coordinator (ROSS-SC) program is designed to assist residents of Public and Indian housing make progress towards economic self-sufficiency. To help residents accomplish this goal, ROSS provides grant funding to eligible applicants to hire Service Coordinators to assess the needs of Public and Indian housing residents and link them to supportive services that enable participants to move along a continuum towards economic independence and stability. In the case of elderly/disabled residents, the Service Coordinator links participants to supportive services which enable them to age/remain in place.  Application deadline is July 30, 2018.  APPLY HERE. 
Applicants will choose the areas of need below that the ROSS-SC will focus their efforts. The area(s) of need selected by the applicant must be supported by the resident need assessment. Please see Section III.E.11
| | | | | | | |
| --- | --- | --- | --- | --- | --- | --- |
| Education | Financial Literacy | Health & Wellness | Elderly & Disabled | Reentry | Employment | Substance Abuse |
---
View Archive - What's New on Codetalk Highlights
Questions? Contact the ONAP Web manager.
ONAP Offices and Tribal Contacts