The Building of a New Inspection Model – National Standards for the Physical Inspection of Real Estate (NSPIRE)
Try the NSPIRE Score Calculator
The NSPIRE Score Calculator (MS Excel) helps you estimate a potential NSPIRE score based on the types and locations of deficiencies identified during an NSPIRE inspection. This score only provides an estimate as many factors will impact the actual score generated by a property inspection.
Learn how to use HUD's NSPIRE Score Calculator by watching this video.
About REAC
HUD's Real Estate Assessment Center (REAC) assists in improving housing quality by performing accurate, credible, and reliable assessments of HUD's real estate portfolio. REAC's primary mission is to provide our customers with independent, actionable assessments that advance risk-informed decisions about the condition of the nation's affordable housing portfolio.
The new NSPIRE model prioritizes health, safety, and functional defects over appearance. It implements inspections that better reflect the true physical conditions of the property. The NSPIRE model supports the adoption of sound, year-round maintenance practices.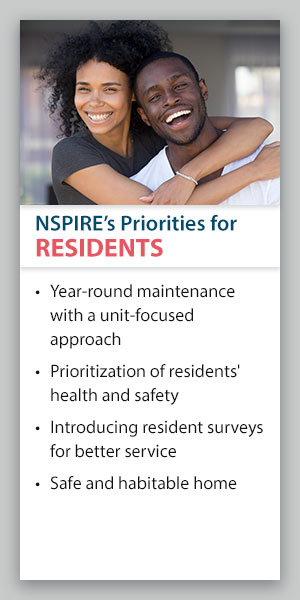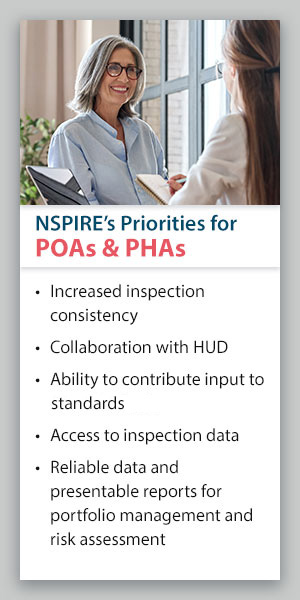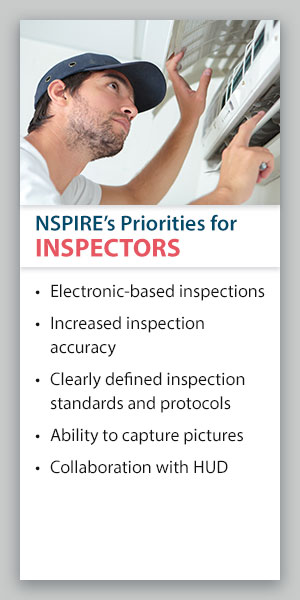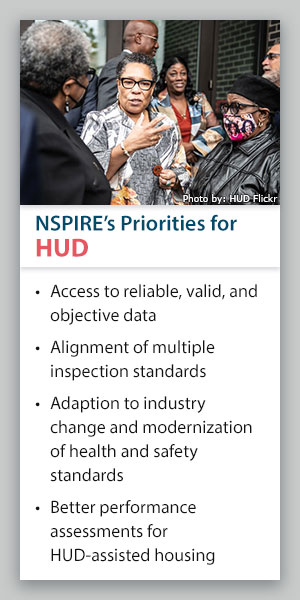 NSPIRE Demonstration
In late 2019, REAC began a two-year, voluntary demonstration to better identify potential adjustments to standards, protocols, and processes prior to nationwide implementation. This demonstration involves a diverse, representative group of stakeholders, including other HUD offices, public housing authorities (PHAs), and property owners and agents (POAs). During the demonstration, volunteer properties around the United States participate in inspections using the new protocol and provide feedback.
Read More about the NSPIRE Demonstration »
The most positive aspect to NSPIRE is its desire to improve the quality of life for residents and address unit needs in a meaningful way.
— Wandae Johnson, Charlottesville Public Housing Association of Residents
NSPIRE Standards
HUD's approach to standards development follows a clearly defined core set of principles: people-centered design, a focus on efficiency, science-based rationales, continuous collaborative improvement, and streamlined operations. HUD welcomes input from property owners and agents, public housing agencies, residents, technical experts, and other members of the public. Your feedback is critical to the success of NSPIRE and the well-being of the residents HUD serves.
More About NSPIRE