Overview
In January 2015, the U.S. Department of Housing and Urban Development (HUD) and the U.S. Department of Veterans Affairs (VA) announced a demonstration program to offer a permanent home and supportive services to Native American Veterans who are experiencing or at risk of experiencing homelessness. The Tribal HUD-VA Supportive Housing program (Tribal HUD-VASH) will provide rental assistance and supportive services to Native American veterans who are Homeless or At Risk of Homelessness living on or near a reservation or other Indian areas. In its initial funding round, HUD is making available $5.2 million in grant funding to Indian tribes and tribally designated housing entities (TDHEs) to fund this rental assistance and associated administrative fees. Indian tribes and TDHEs participating in this program must partner with the Department of Veterans Affairs (VA) to provide case management and supportive services to eligible Native American veterans.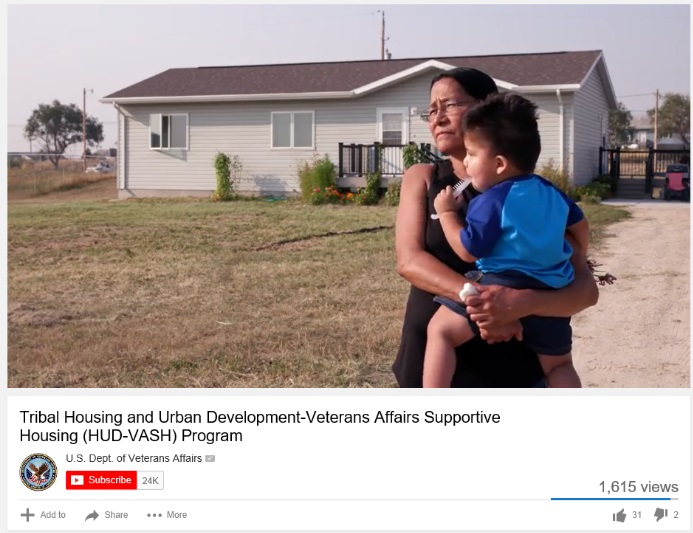 Learn how the Tribal Housing and Urban Development-Veterans Affairs Supportive Housing (HUD-VASH) program helps homeless Native American Veterans exit homelessness. Tribal HUD-VASH combines rental assistance from HUD with case management, clinical and supportive services provides by VA specifically for Native American Veterans who are homeless or at risk of homelessness. Video produced by the U.S. Department of Veterans Affairs.
Click Here
to watch.
Tribal HUD-VASH Program Historical Resources
Select a Topic
Tribal HUD-VASH Demonstration Program
Dear Tribal Leader Letters
Frequently Asked Questions
Training and Webcasts
Tribal HUD-VASH Expansion NOFA Training Materials
Visit THUD-VASH Archives for previous years NOFOs, Trainings and Guidance.
If you have questions about the Tribal HUD-VASH demonstration program, please contact TribalHUDVASH@hud.gov.
What's New!
Tribal HUD-VASH Renewal Notice Published
Tribal HUD-VASH Expansion Program