Office of Native American Programs (ONAP)
---
Housing Counseling Disaster Recovery Toolkit Now Available
August 3, 2018
HUD's Office of Housing Counseling's Housing Counseling Disaster Recovery Toolkit, is a new online guide created to help Housing Counseling Agencies prepare for disaster events and engage with local partners that receive funding following disasters. The toolkit features two related guides: 
·     Preparing for A Disaster walks through an organizational planning process to effectively prepare a disaster in your community. It also provides guidance on how to work with other stakeholders to participate in disaster planning efforts as well as how to counsel clients on preparedness.
·     Operating Post Disaster highlights actions to take to adjust to a post-disaster environment. This includes immediate steps to help ensure continuity of operations and longer term efforts to participate in community recovery and assist clients in post-disaster recovery.
---
HEROS for Tribes and Tribal Partners Webinar Recording
August 2, 2018
The HUD Office of Environment and Energy (OEE) is pleased to announce the Using HEROS for Tribes and Tribal Partners webinar. Beginning in June 2018, OEE is conducting a pilot for Tribes and their partner organizations using HUD Environmental Review Online System (HEROS) for both Part 50 and Part 58 Environmental Reviews in HEROS. 
This webinar is intended for Tribes, TDHEs, and third party consultants who prepare Office of Native American Programs (ONAP) reviews on behalf of HUD or a Responsible Entity Tribe.
---
Tribal Leaders Handbook on Homeownership
July 12, 2018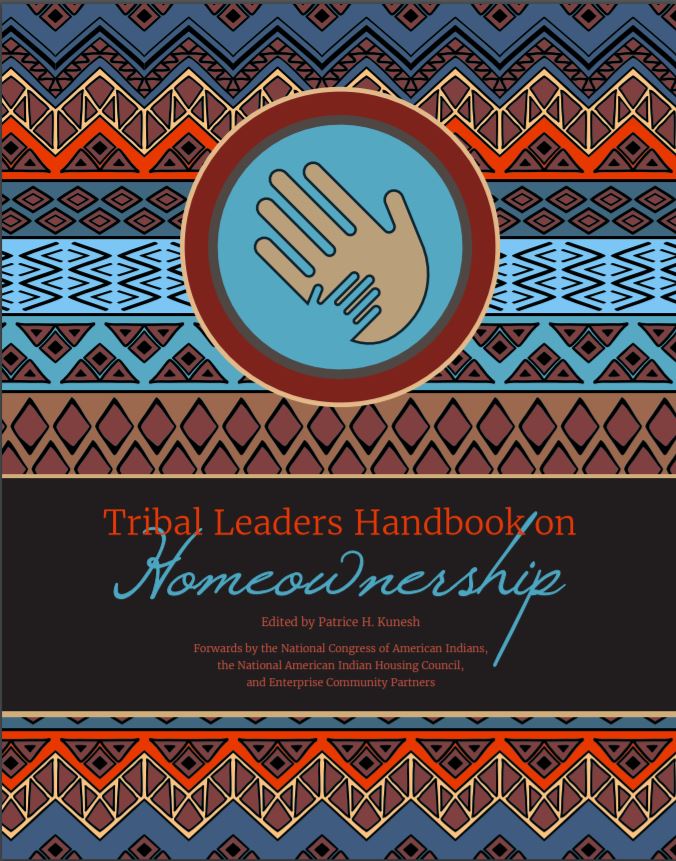 The Center for Indian Country Development's Tribal Leaders Handbook on Homeownership provides detailed examples, case studies, checklists, and information on developing affordable homeownership in Indian Country.  This essential guide provides information on new mortgage programs (government and private), the new kinds of lenders (loan funds, Native CDFIs), and the new energies that are transforming Indian housing.  Download a copy HERE. 
---
Updated Healthy Home Checklist from EPA/CDC/HUD/DHHS
July 11, 2018
Home assessments can help make homes healthier.  Checklist covers the major contributors to asthma and allergies, with suggested action items that are generally simple and low cost.  Download a copy HERE. 
---
Choctaw Nation selected as one of 17 EnVision Center communities in U.S.
June 27, 2018
U.S. Housing and Urban Development (HUD) Secretary Ben Carson announced the first round of 'EnVision Center' designations in 17 communities around the nation.  One of Secretary Carson's signature initiatives, EnVision Centers will offer HUD-assisted families access to support services that can help them achieve self-sufficiency, thereby making scarce federal resources more readily available to a greater number of households currently waiting to receive HUD assistance.  Read more about HUD's EnVision Center Demonstration.
---
Dear Tribal Leader letter regarding Section 184 regulations update and homeownership opportunities in Indian Country
June 27, 2018
ONAP is currently drafting a proposed rule for tribal comment.  The draft proposed rule will include early tribal feedback and will be sent to tribal leaders and housing executives for comment.  Tribes will have a 60-day period to review the draft proposed rule.  HUD anticipates having the draft ready for tribal review by the end of the summer.  Read the full letter including reservation tools, homeownership best practices, and training opportunities HERE.
---
SAMHSA accepting applications for up to $50 million to help tribes address opioid crisis
June 21, 2018
The Substance Abuse and Mental Health Services Administration (SAMHSA) is accepting applications for up to $50 million in Tribal Opioid Response Grants. The grants, which will go to tribes and tribal organizations, will fund prevention, treatment, and recovery activities in response to the opioid crisis.  The Tribal Opioid Response Grants will address the opioid crisis in tribal communities by increasing access to culturally-appropriate evidence-based treatment, including medication-assisted treatment. The grants will reduce unmet treatment needs and opioid overdose-related deaths.  Read the Full Press Release
Procedural Guidance for Tribal HUD-VA Supportive Housing Renewal Grant Applications - This Tribal HUD-VA Supportive Housing (Tribal HUD-VASH) notice announces renewal requirements and procedural guidance for existing recipients of the program.  This notice specifies the criteria for renewal grants, including data on the utilization of assistance reported by grant recipients under the demonstration program.  Read the full text HERE.  
---
YouthBuild Grant Opportunity (Dept. of Labor).  Deadline to Apply is September 18, 2018
June 10, 2018
Grants to provide pre-apprenticeship services that support education, occupational skills training, and employment services to at-risk youth, ages 16 to 24, while performing meaningful work and service to their communities.  In addition to construction skills training, YouthBuild applicants may include occupational skills training in other in-demand industries.  This expansion into additional in-demand industries is the Construction Plus component, a priority in this grant competition. Expect to award 85 grants ranging from $700,000 to $1.1 million and require a 25 percent match from applicants, using sources other than Federal funding.
---
Housing Counselor Certification Training webinars this summer! 
June 8, 2018
Attend webinars on all six HUD competencies to prepare for the HUD certification exam. Each topic will be covered three times in 2018 for your convenience. All times are 2:00 - 4:00 PM Eastern.
Recorded Webinar Videos:
---
View Archive - What's New on Codetalk Highlights
Questions? Contact the ONAP Web manager.
ONAP Offices and Tribal Contacts