Office of Native American Programs (ONAP)
---
Job Openings!  ONAP Grants Specialists (GS 9-12).  Apply by April 2nd
March 19, 2018
Several Grants Specialists positions are available in ONAP's Alaska, Chicago, and Albuquerque offices.  Positions are located in HUD's Office of Public and Indian Housing (PIH), Office of Native American Programs.  PIH's mission is to provide low-income families affordable housing opportunities as they transition to self-sufficiency and homeownership.  Deadline to apply is April 2, 2018. 
---
Section 184 Regulations Tribal Consultation webpage, and National Informational Call March 15th @ 2PM EST.
March 12, 2018
HUD has created a one-stop webpage for the consultation on Section 184 Regulations.  Webpage includes links to Department's Tribal Consultation Policy, current Section 184 regulations, authorizing legislation, and updates on the consultation process.  HUD welcomes all tribal comments on the Section 184 program.  Email comments to 184consultation@hud.gov.
Dear Tribal Leader Letter announcing National call and listening session schedule (3/12/2018).
March 15th Section 184 Tribal Consultation Informational webinar call at 2:00 PM EST. You may join the conference 10 minutes prior.  Dial 1-877-369-5243 Access Code: 0763902##.  Visit: http://ems8.intellor.com/login/804303.  When you access the entry link above, you will be provided a choice - to install the WebEx plug-in for your preferred browser or to join the web conference using a temporary path. Either option is acceptable. Need technical assistance? Call the AT&T Help Desk at 1-888-796-6118.

Revised!

 Section 184 Read Ahead document (Revised 3/7/2018)
Upcoming Listening Sessions:
March 22, 2018 Lincoln, CA
March 26, 2018 Washington, DC
April 9, 2018 Anchorage, AK and webinar
April 9, 2018 Lakewood, CO
April 17, 2018 Worley, ID
April 19, 2018 Catoosa, OK
April 24-25, 2018 Albuquerque, NM
---
FEMA Seeks Youth Leaders For National Youth Preparedness Council Apply by March 18, 2018
March 12, 2018
The Federal Emergency Management Agency (FEMA) is seeking applicants for the Youth Preparedness Council, which brings together teens from across the country who are interested and engaged in community preparedness. Students in 8th through 11th grade are eligible to apply.  Youth interested in applying to the Council must submit a completed application form, provide two letters of recommendation, and academic records. All applications and supporting materials must be received no later than March 18th, 2018, 11:59 p.m. PST in order to be eligible. New council members will be announced in May 2018. Apply at: https://www.ready.gov/youth-preparedness-council.
---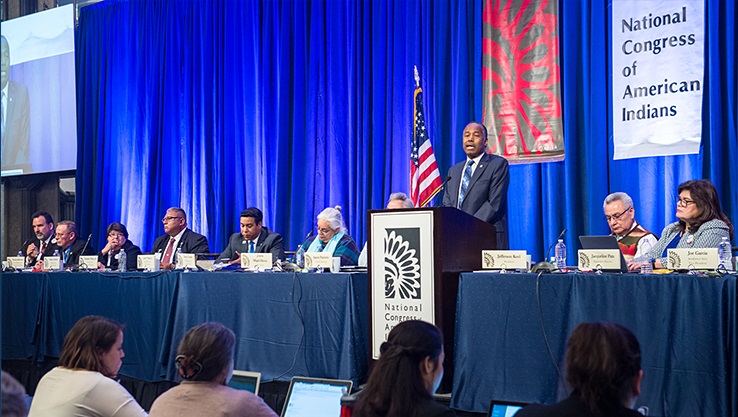 Secretary Carson addresses the National Congress of American Indians
February 22, 2018
Last week, HUD Secretary Carson addressed the National Congress of American Indians at the Executive Winter Session in Washington, DC.   His remarks touched upon the Department's commitment to addressing the housing needs of American Indians and Alaska Natives, combating America's opioid epidemic, and promoting economic growth and self-sufficiency opportunities.  Secretary Carson discussed efforts to permanently authorize the Tribal HUD-Veterans Affairs Supportive Housing Demonstration Program and announced upcoming consultation in the form of listening sessions to solicit input in the drafting of improved Section 184 regulations.  Read the full text of the his speech Here.
---
New ONAP Program Guidance 2018-01 regarding the use of FCAS units and IHBG funds for Tribal HUD VASH rental assistance
February 22, 2018
This notice provides additional guidance to Tribal HUD-VA Supportive Housing program (Tribal HUD-VASH) recipients on the use of Formula Current Assisted Stock (FCAS) units and the use of Indian Housing Block Grant (IHBG) funds for rental assistance in the Tribal HUD-VASH program. Read Full Text Here.
---
HUD Awards ROSS Grants to Promote Jobs and Self-Sufficiency
February 20, 2018
Several Native American Tribes were awarded HUD Resident Opportunities and Self Sufficiency – Service Coordinators Program (ROSS-SC) grant to  encourage innovative and locally driven strategies that link residents with public and private resources to enable families to promote economic independence and housing self-sufficiency. These grants provide funding to hire and retain Service Coordinators who will assess the needs of residents and coordinate available resources in the community to meet those needs.  Click here for a full listing of grantees.
---
Secretary Carson launches EnVision Center Initiative
February 20, 2018
HUD EnVision Centers are a new public-private initiative that brings together essential resident services through four key pillars of self-sufficiency (Economic Empowerment, Educational Advancement, Health and Wellness, and Character and Leadership).  The first EnVision Centers will be announced after March 5, 2018 in approximately 10 communities.  Secretary Carson recently released the following letter announcing HUD's EnVision Center Initiative. Read Full Text Here.
The Department is committed to empowering families with the tools they need to succeed. To read more about EnVision Centers and to nominate your community visit the EnVision Centers Homepage.
---
Earned Income Tax Credit Toolkit and Outreach Resources 
January 3, 2018
The EITC provides more money back at tax time for about 30 million low- and moderate-income working  families. The EITC is a tax benefit for working people who earn lower or moderate incomes. The credit  offsets taxes, supplements very low wages, and encourages work.
The EITC can help cover any federal income tax workers may owe at tax time. Besides offsetting taxes,  workers earning lower wages may also get cash back through the EITC refund. Eligible workers who claim  the EITC on their tax return can receive a refund even if they do not owe income tax.
Single and married people who worked full- or part-time at some point during 2017 can qualify for the  EITC, if their income is below the following limits:
Number of
Qualifying Children
Single
Married
EITC Up to:
None
$15,010
$20,600
$510
1
$39,617
$45,207
$3,400
2
$45,007
$50,597
$5,616
3 or more
$48,340
$53,930
$6,318
Unfortunately, one in five eligible workers doesn't claim the tax credit. You can help get the word out by including fliers in your office and including information in your newsletters, food bank bags, and community events.
HUD's Office of Native American Programs would like to remind folks about the Earned Income Tax Credit (EITC) and request your assistance in sharing information about the EITC and free tax preparations services with your residents.
---
---
View Archive - What's New on Codetalk Highlights
Questions? Contact the ONAP Web manager.
ONAP Offices and Tribal Contacts