Office of Native American Programs (ONAP)
HUD's Office of Native American Programs (ONAP) administers housing and community development programs that benefit American Indian and Alaska Native tribal governments, tribal members, the Department of Hawaiian Home Lands, Native Hawaiians, and other Native American organizations.
Read more
about ONAP's mission, funding programs, directory, and program accomplishments.  
Dear Tribal Leader Letter regarding EPIC roll out May 1, 2018  
November 29, 2017
HUD ONAP is seeking comments from tribal leaders and Indian housing officials regarding the implementation of EPIC, the electronic system for submitting Indian Housing Plans (IHPs), Annual Performance Reports (APRs), IHP waivers and amendments, and Federal Financial Reports (SF-425s).  HUD plans to make EPIC available to all IHBG recipients beginning May 1, 2018.  Click Here to read full text of the Dear Tribal Leader Letter.   
---
HUD Releases a Historic Tax Credit toolkit
November 28, 2017
This past May HUD broadcast a webinar on Using the Historic Tax Credit for Affordable Housing.  To complement the webinar, we've assembled a toolkit that highlights the most critical components of the webinar, along with links to supporting resources.  The toolkit includes a recording of the webinar for you to share with your colleagues.  To view the toolkit, please click here. 
---
Updated HUD Tribal Directory Assistance Tool (TDAT)
November 28, 2017
A new version of the HUD Tribal Directory Assistance Tool (TDAT) is available at https://egis.hud.gov/tdat. TDAT links tribes' geographic areas of current and ancestral interest down to the county level, and is utilized for tribal consultation under Section 106 of the National Historic Preservation Act. The functions of this version are the same as the last version of TDAT, but the look is different and it now functions on mobile devices. Updates to information listed in TDAT should be submitted through TDAT. This can be done by selecting "Menu", and then "Feedback and Corrections." 
---
IRS Tribal Listening Session Dec. 4th in Washington, DC
November 27, 2017
Senior Treasury officials and the Internal Revenue Service will host an in-person listening session on Monday, December 4, from 9:30 – 11:30 a.m. EST, to discuss general federal tax issues related to current tax reform efforts.
The issues may include:  
economic development incentives in Indian country
permanent extension of Indian employment tax credit and acceleration depreciation on Indian lands
tax constraints on tribal lands and tribal businesses
financing tools and the need for tribal parity
Registration is required by Tuesday, November 28th. Please email your contact information to TRIBAL.CONSULT@treasury.gov. You will receive a phone call to collect your personal information for clearance into the Treasury building. This event will not be accessible by phone.
---
Job Announcement!  Deputy Administrator, Southwest Office of Native American Programs in Albuquerque, NM.  Application deadline: November 28, 2017
November 9, 2017
This position is located in the Office of Public and Indian Housing (PIH), Office of Native American Programs (ONAP). ONAP's mission is to increase the supply of safe, decent, and affordable housing available to Native American families; strengthen communities by improving living conditions and creating economic opportunities for tribes and Indian housing residents; and ensure fiscal integrity in the operation of the programs it administers.
External Candidate Announcement: https://www.usajobs.gov/GetJob/ViewDetails/484078000
Internal Candidate Announcement: https://www.usajobs.gov/GetJob/ViewDetails/484079400
---
Colville Indian Housing Authority Supporting Native Veterans with Tribal HUD- VASH
November 7, 2017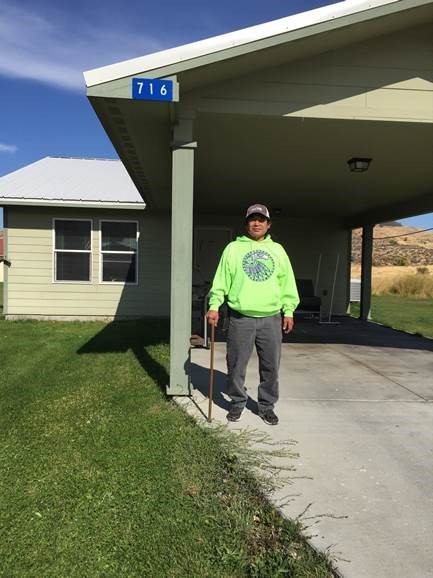 Veterans have answered our nation's calls to serve.  In return, our nation should answer their calls when they need help. HUD, the VA and our Tribes are doing precisely that. One of the first applicants to be served by Tribal HUD-Veterans Administration Supportive Housing (THVASH) grant was Gary J. Francis (Colville), a retired Marine.  To read more about Gary's story and the Colville Indian Housing Authority's implementation of THVASH, providing subsidy to house twenty homeless or at-risk of homelessness Native Veterans, Click Here
---
Section 184 Program resumes processing case number requests
October 5, 2017
The Section 184 Program will re-open for business beginning this afternoon, October 5, 2017 at 2pm Eastern Standard Time (EST). Our initial priority will be processing case number requests and reservation of fund requests submitted since 09/22/17 when we suspended program processing. All submissions will be processed in the order they were submitted to the Section184@hud.gov mailbox. 
Currently, there are over 200 submissions pending processing. Due to the large amount of activity and the Columbus Day Holiday closure this Monday, 10/09/2017, we are unable to process any requests on a "RUSH" basis. Continue to send case number and reservation of funds request to the designated program mailbox and not to individual team members. It is our goal to complete processing for the current backlog during the week of 10/09/2016. We appreciate your patience and assistance during this period and ask that you bear with us as we begin initial processing.
---
Dear Tribal Leader Letter Introducing New General Deputy General Deputy Assistant Secretary for Public and Indian Housing
October 3, 2017
It is my pleasure to introduce HUD's new General Deputy Assistant Secretary (GDAS) for Public and Indian Housing (PIH), Dominique Blom.  Since 1993, Ms. Blom has worked tirelessly to create affordable housing opportunities for millions of families across the country and build communities. She most recently served as the Deputy Assistant Secretary for the Office of Public Housing Investments.  Click here for the full text. 
---
Dear Tribal Leaders Letter: Coordinated Environmental Review Initiative
September 26, 2017
This Dear Tribal Leader letter invites tribal leaders to provide comment and input on the draft implementation plan for recommendations made by the Final Report on the Coordinated Environmental Review Initiative.  If you have questions about the draft plan, contact Hilary Atkin, or Jennifer Bullough. 
---
Census Challenge Waiver Form Issued
September 15, 2017
In Accordance with 1000.336(d), tribes must submit Census challenges to HUD by March 30, 2017 for consideration for the FY 2018 IHBG Formula allocation. This year, tribes/TDHEs may be notified of their Needs data by June 1, 2017 or later. As such, a Census Challenge Waiver has been issued, extending the submission deadline to March 30, 2018. Contact the IHBG Formula Customer Service Center 1-800-410-8808 with questions.
---
FY 2017 Indian Community Development Block Grant Awards- $55 Million for Housing and Community Development Project in 77 Native Communities
September 14, 2017

Today, the U.S. Department of Housing and Urban Development (HUD) awarded $55.2 million to 77 Native American tribes throughout the country to improve housing conditions and to stimulate economic development in their communities. HUD's Indian Community Development Block Grant (ICDBG) Program is a competitive program that supports a wide range of community development and affordable housing activities, from new housing for individual families to community amenities like rec centers or water lines. Read the full Press Release Here.
---
FY 2018 IHBG Formula Estimates
September 13, 2017
Click Here for the following information:
Impact of Single/Multi-Race Provision on the FY 2018 IHBG Estimate Allocations: Narrative, Tribes' Formula Components, and Needs Variables (MS-Excel)
FY 2018 Estimate Summary – CAS
FY 2018 Estimate Summary - Formula Area
FY 2018 Estimate Summary - Needs and Allocation
FY 2018 Estimate Summary - Section 8
FY 2018 Estimate Summaries (MS-Excel)
The American Community Survey Implementation Analysis (MS-Excel)
Phase Down Schedule (MS-Excel)
FY 2018 Estimate Cover Letter
FY 2018 Estimate Correction Letter
FY 2018 Estimate Appendices
FY 2018 Estimate Calendar of Critical Deadlines and Frequently Asked Questions
FY 2018 Estimate Corrections/Challenge Log 
---
PIH Notice Announcement
August 31, 2017

On November 22, 2016, HUD published the final rule revising the IHBG allocation formula authorized by section 302 of the Native American Housing Assistance and Self-Determination Act of 1996, as amended (NAHASDA). These regulations, which became effective on December 22, 2016, update the regulations at 24 CFR part 1000. Three notices (PIH 2017-14, PIH 2017-15, and PIH 2017-16) have been published to provide information related to these changes.
---
Dear Participating Lenders Letter- NEW! Computerized Loan Origination System for Section 184 Home Loan Guarantees
August 3, 2017
HUD is introducing a new computer system to expedite the processing of mortgage loans for Section 184 Home Loan Guarantee Program. The system will with launch this month and available to all lenders with direct guarantee approval upon completion of scheduled training. See Dear Participating Lenders letter for more details.
 
---
Seventh Generation Fund for Indigenous Peoples Funding Opportunity
August 1, 2017
Grants to fund Native community-based projects in the areas of: health and well-being; leadership development; art and creativity; peace, equity, and justice; sustainable communities and economies; and the rights of Mother Earth. Grant awards range from $250 to $10,000. Native American/Indigenous peoples' initiatives or projects that work within the community, and have a majority Indigenous/Native American staff, a board of directors and leadership that is at least 80 percent Indigenous peoples, and an annual operating budget of less than $200,000 are eligible to apply. Deadline: December 1, 2017. View the program website and application instructions here.
 
---
Dear Tribal Leader Letter – FY 2018 Formula Response Form delay and new deadline to Nov. 6, 2017
August 1, 2017
Due to delays in appropriations for FY 2017, the FY 2018 Indian Housing Block Grant Formula Response Form could not be accurately prepared by the June 1st date. Therefore, the FY 2018 Formula Response Form will be published no later than September 6, 2017. The deadline for tribes/TDHEs to respond to the Formula Response Form will be extended to November 6, 2017, which will still provide tribes/TDHEs the customary 60-day response period. Read the full Dear Tribal Leaders Letter Here.
---
FY 2017 IHBG Final Allocation Summaries Published
July 3, 2017
---
NOW AVAILABLE: Recorded HUD Webinar on Tiered Environmental Review
June 7, 2017HEROS Tiered Environmental Review Webinar recording, slides, and transcript are available at: https://www.hudexchange.info/trainings/courses/heros-tiered-environmental-review-webinar/1936/. During the webinar, HUD staff presented an overview of the tiered review process and how Responsible Entities may use tiering to improve their environmental review procedures. HUD staff also demonstrate how tiered reviews are created using a single-family rehab program as a case study.
---
---
View Archive - What's New on Codetalk Highlights
Questions? Contact the ONAP Web manager.
ONAP Offices and Tribal Contacts