Office of Native American Programs (ONAP)
---
HUD Technical Assistance Opportunity for Homelessness On and Off Tribal Lands.  Deadline: OCTOBER 19, 2018
October 3, 2018
HUD's Office of Special Needs Assistance Programs (SNAPS) technical assistance (TA) opportunity is targeted for organizations serving American Indians and Alaska Natives (AI/AN) experiencing homelessness both on and off tribal lands. The goal of this TA initiative is to strengthen partnerships between Tribal communities, urban native communities, homeless crisis response systems, state and local partners, trade associations, and other relevant stakeholders, to decrease the number of AI/AN households experiencing or at risk of experiencing homelessness by increasing their access to permanent housing. To be considered as a TA participant, complete the Interest Form and email your form to LindaLee Retka at lretka@naihc.net no later than October 19, 2018. For more info., contact: Marlisa Grogan, Senior Program Specialist, SNAPS at (603) 666-7510 (ext. 3049) or by email: Marlisa.M.Grogan@hud.gov or LindaLee Retka, Program Director, National American Indian Housing Council at (218) 343-7662 or lretka@naihc.net.   
---
ONAP Best Practices Webinar Series featuring: Lummi Nation Housing Authority 
September 25, 2018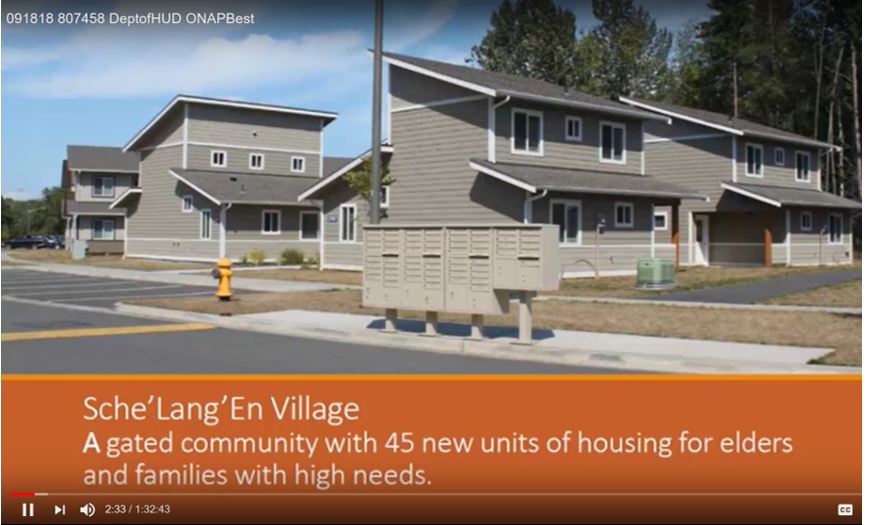 On September 18th, HUD Deputy Assistant Secretary, Heidi Frechette, interviewed Diana Phair, Executive Director of the Lummi Nation Housing Authority about their Sche'Lang'En (Our Way of Life) Village, a 45-unit gated Transformational Housing with Supportive Services.  Housing is intended for individuals and families making transformational life changes and/or recovering from homelessness, domestic violence, substance use disorders, and looking to reunify with their children.  Utilizing a $5,600,000 Title VI loan to complete the project, the detached homes are clustered in pods of four with a shared covered alcove to encourage families to get to know one another.  The village features walking paths encourage exercise; community facility used for weekly meetings, playgrounds, and, a community garden provides fresh vegetables for families.
Download webinar materials:
---
Letter to Section 184 Lenders informing of fiscal year end closeout procedure (Effective September 21, 2018)
September 19, 2018
Beginning on Friday, September 21, 2018, HUD will begin its financial closeout for Fiscal Year (FY) 2018. Accordingly, the Section 184 Program will cease to issue case numbers or loan guarantee certificates after 4:30 p.m. EDT on Friday September 21, 2018, as HUD's financial systems transition to FY 2019. Case numbers and loan guarantee certificates submitted during the closeout will be issued as a FY 2019 cohort upon the reopening of HUD's financial systems. Read the full letter HERE. 
---
Published: Revised Section 184 Indian Housing Loan Guarantee Program 2018 Loan Limits 
September 19, 2018
This Notice is to update the 2018 mortgage loan limits (PIH Notice 2018-06) for the Section 184 Indian Housing Loan Guarantee program (Section 184). The revised 2018 Section 184 loan limits incorporates the areas in Virginia now eligible for Section 184 guaranteed mortgages and the corresponding loan limits to serve the newly Federally recognized Virginia tribes. This notice makes no additional changes. Read in full PIH 2018-14.  For a listing of loan limits by State and County view the Attachment (MS-Excel).
---
HUD Awards $12 Million to Tribal Communities for Healthy Homes Grants
September 10, 2018
More than $12 million in Healthy Homes Production grants to 13 Tribes and Tribal agencies to protect children and families from home health and safety hazards (see chart below). The grant funding announced today will assist and protect families by targeting health hazards, including dangerous lead paint, in 1,300 low-income homes with significant home health and safety hazards. Read the full Press Release and Project Summaries HERE. 
State
Recipient
City
Amount
AK
Organized Village of Kake
Kake
$1,000,000
Alaska Native Tribal Health Consortium
Anchorage
  $868,236
Tlingit Haida Regional Housing Authority
Juneau
$1,000,000
AZ
White Mountain Apache Housing Authority
Whiteriver
$1,000,000
TOhono O'odham Ki:Ki Housing Association
Sells
 $1,000,000
MT
Salish Kootenai Housing Authority
Pablo
$1,000,000
Fort Peck Housing Authority
Poplar
$1,000,000
Blackfeet Housing Program dba Blackfeet Housing Authority
Browning
$1,000,000
Northern Cheyenne Tribal Housing Authority
Lame Deer
$1,000,000
NC
Eastern Band of Cherokee Indians
Cherokee
$1,000,000
ND
Turtle Mountain Band of Chippewa Indians
Belcourt
$986,742
NY
Seneca Nation of Indians
Irving
$996,441
Saint Regis Mohawk Tribe
Hogansburg
$564,313
 
 
TOTAL
 $12,415,732
---
Section 184 Consultation Comments Posted
August 30, 2018
In accordance with HUD's Tribal Consultation Policy, the Office of Native Programs (ONAP) conducted a series of consultation sessions over the past year on draft regulations for the mortgage loan guarantee program it manages (commonly referred to as Section 184).  During these sessions, attendees were encouraged to comment on the program and make suggestions on what the draft regulation should address. An email mailbox was also created for interested parties to submit their comments outside of the consultation sessions. Once received, the comments are reviewed and taken into consideration by the drafting committee for the draft regulations and future guidances.  Click here to view a summary of the comments. 
---
Lead-Based Paint Hazard Reduction Grant Program.  Grant Deadline September 25, 2018
August 29, 2018
The purpose of the Lead Based Paint Hazard Reduction grant program is to assist states, cities, counties/parishes, Native American Tribes or other units of local government in undertaking comprehensive programs to identify and control lead-based paint hazards in eligible privately-owned rental or owner-occupied housing populations.  Funding of up to $212,000,000 is available through this Notice of Funding Availability and HUD expects to make approximately 50 awards. The minimum award for any applicant to request under this opportunity is $1,000,000.  Full details can be found at https://www.grants.gov/web/grants/view-opportunity.html?oppId=308148. 
---
Draft Proposed Rule to Streamline HUD's Environmental Review Regulations
August 8, 2018
The U.S. Department of Housing and Urban Development (HUD) invites Tribes to engage in government-to-government consultation during the re-drafting of its environmental regulations. A letter sent on August 8, 2018 invites Tribal Leaders to participate in a 60-day comment period on HUD's draft rule to streamline its environmental review regulations.  Included is a summary of the major changes being considered and explanations for those proposals.  If you have questions or comments, contact Marcel Tchaou in HUD's Office of Environment and Energy at EnvironmentalPlanningDivision@hud.gov or 202.402.5226. 
HUD invites Tribal officials to provide comments and input during a webinar and conference call on September 26, at 2 p.m. EDT.
Wednesday, September 26 at 2 p.m. EDT:

Join Skype Meeting

. 

Audio: 888.675.2535 Access Code: 4038003#
---
Housing Counseling Disaster Recovery Toolkit Now Available
August 3, 2018
HUD's Office of Housing Counseling's Housing Counseling Disaster Recovery Toolkit, is a new online guide created to help Housing Counseling Agencies prepare for disaster events and engage with local partners that receive funding following disasters. The toolkit features two related guides: 
Preparing for A Disaster walks through an organizational planning process to effectively prepare a disaster in your community. It also provides guidance on how to work with other stakeholders to participate in disaster planning efforts as well as how to counsel clients on preparedness.
 Operating Post Disaster highlights actions to take to adjust to a post-disaster environment. This includes immediate steps to help ensure continuity of operations and longer term efforts to participate in community recovery and assist clients in post-disaster recovery.
---
Housing Counselor Certification Training webinars  
July 30, 2018
Attend webinars on all six HUD competencies to prepare for the HUD certification exam. Each topic will be covered three times in 2018 for your convenience. All times are 2:00 - 4:00 PM Eastern.
ONAP Offices and Tribal Contacts