OLHCHH - Grant Opportunities
Grants
Older Adult Home Modification Grant Program
The overall purpose of the Older Adult Home Modification Program (OAHMP) is to assist experienced nonprofit organizations, state and local governments, and public housing authorities in undertaking comprehensive programs that make safety and functional home modifications repairs, and renovations to meet the needs of low-income elderly homeowners. The home modification program aims to enable low-income elderly persons to remain in their homes through low-cost, low-barrier, high-impact home modifications to reduce older adults' risk of falling, improve general safety, increase accessibility, and improve their functional abilities in their homes. This will enable older adults to remain in their homes, that is, to "age in place," rather than move to nursing homes or other assisted care facilities.
Healthy Homes Production Grant Program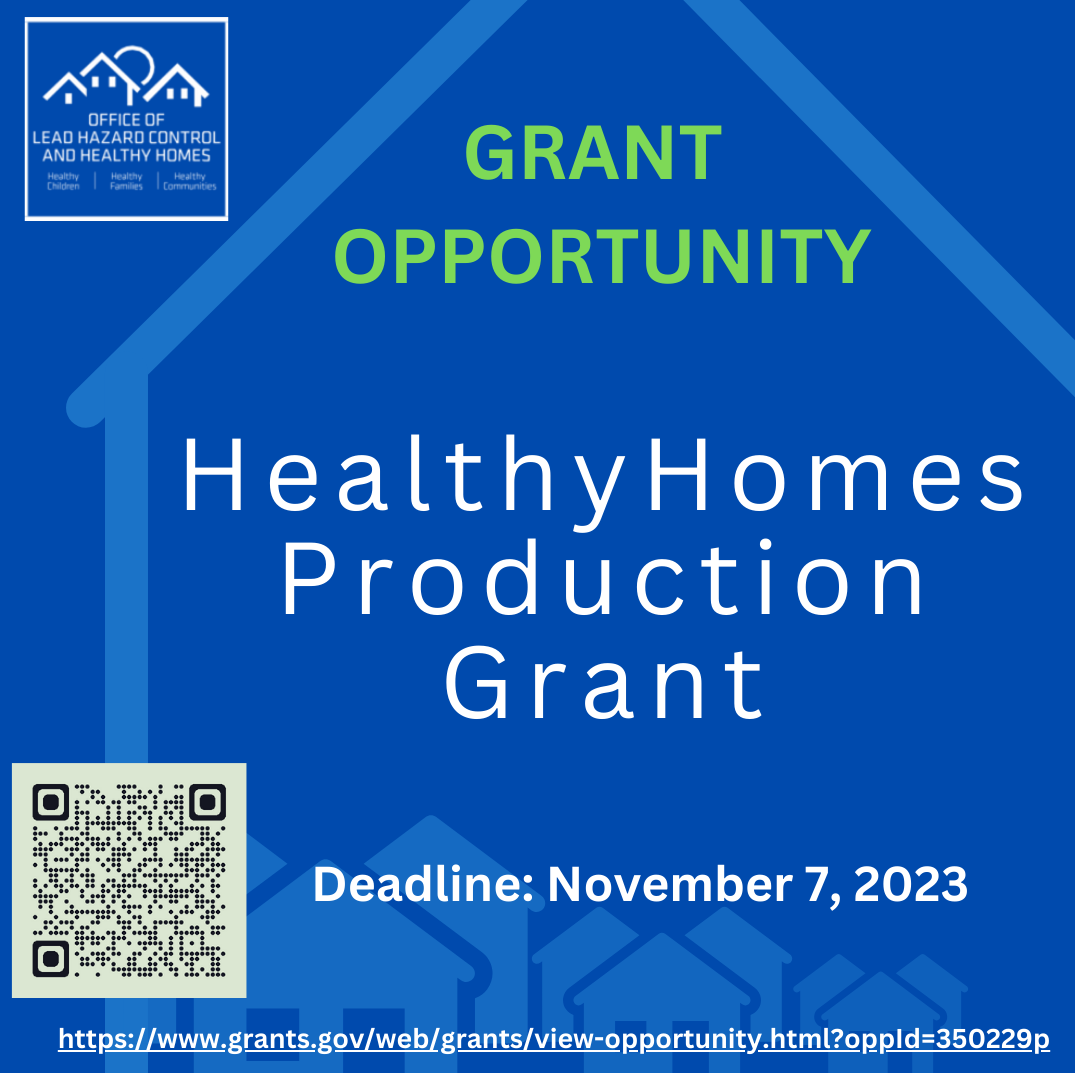 The Healthy Homes Production Program (HHP) is part of HUD's overall Healthy Homes Initiative launched in 1999. The program takes a comprehensive approach to addressing multiple childhood diseases and injuries in the home by focusing on housing-related hazards in a coordinated fashion, rather than addressing a single hazard at a time. The program builds upon HUD's successful Lead Hazard Control programs to expand the Department's efforts to address a variety of high-priority environmental health and safety hazards.
Lead and Healthy Homes Technical Studies Grant
HUD is funding studies to improve HUD's and the public's knowledge of housing-related health and safety hazards and to improve or develop new hazard assessment and control methods, with a focus on lead and other critical residential health and safety hazards. HUD is especially interested in applications that will advance our knowledge on priority healthy homes issues by addressing important gaps in the science related to the accurate and efficient identification of hazards and the implementation of cost-effective hazard mitigation. This includes studies using implementation sciences in identifying specific conditions under which residential environmental hazard interventions that have been shown to be effective in specific housing types and residential settings can be assessed in other contexts.
Capacity Building Grant
The purpose of the Lead Hazard Reduction Capacity Building Grant Program is to assist states; Federally-recognized Native American Tribes that have a U.S. Environmental Protection Agency-authorized lead abatement certification program; cities, and counties/parishes, or other units of local government that have not received a HUD lead hazard control grant or been a sub-recipient of such a grant since January 1, 2010, in developing the infrastructure necessary to undertake comprehensive programs to identify and control lead-based paint hazards in eligible privately owned rental or owner-occupied housing.
Healthy Homes and Weatherization Grant
HUD, through this Healthy Homes and Weatherization Cooperation Demonstration (HHWCD) NOFO, is interested in supporting demonstrations in up to 5 communities that provide housing interventions in lower-income households that are conducted jointly through the coordination of HUD's Office of Lead Hazard Control and Healthy Homes (OLHCHH)-funded Healthy Homes Production (HHP) program and programs funded by the U.S. Department of Energy's (DOE) Weatherization Assistance Program (WAP). A critical goal of this demonstration is to determine whether this coordinated delivery of services achieves cost-effectiveness and better outcomes in improving the safety and quality of homes, including health and energy efficiency.
---
Grant Opportunities
---
Help