Multifamily Housing: Southeast Region
Serving Alabama, Florida, Georgia, Kentucky, Mississippi, North Carolina, South Carolina, Puerto Rico, Tennessee, U.S. Virgin Islands
About
Multifamily Housing supports the development, rehabilitation and maintenance of multiple-unit housing through FHA mortgage insurance programs and preservation of affordable housing through Project-Based Rental Assistance and other programs.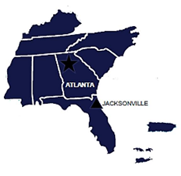 The Multifamily Southeast Region serves the ten states listed above, with its operations based in the Atlanta, Georgia Regional Center and the Jacksonville, Florida Satellite Office. Eight additional offices have Asset Management staff servicing assets in the following locations: Birmingham, Alabama; Columbia, South Carolina; Greensboro, North Carolina; Jackson, Mississippi; Louisville, Kentucky; Miami, Florida; San Juan, Virgin Islands; and Knoxville and Nashville, Tennessee.
SE Region Staff Organization Chart
SE Region Quarterly Newsletter
SE Region Management Fee Memo (2022)
Click on the following links to find contact information by state and supporting office. This includes Leadership, Production Teams, Asset Management teams, and Property Account Executive assignments. You will also find links which will enable you to sign up for e-mail distribution lists that disseminate important information pertinent to the area you choose.