Office of Strategic Planning and Management
The Office of Strategic planning and Management (OSPM) is responsible for driving organizational, programmatic and operational change across the department to maximize agency performance. The office facilitates the Department-wide strategic planning process with the Secretary, the senior leadership team, and external stakeholders. This process includes identifying and monitoring strategic priorities, transformational change initiatives, and monitoring key performance measures against established targets. This office also provides grants management and oversight to ensure policies and regulations are aligned with the strategic goals and implemented consistently and timely.
OSPM has four divisions:
Performance Reporting at a Glance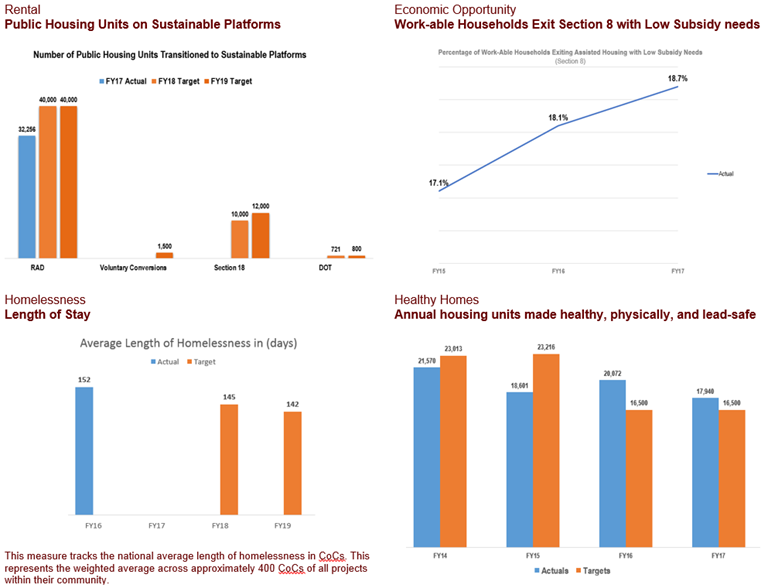 Henry Hensley is the Director of the Office of Strategic Planning and Management at HUD. In this role, he is responsible for implementing all elements of the Government Performance and Results Act (GPRA), the GPRA Modernization Act and all other strategic planning, management and performance mandates governing Executive Branch agencies. In addition, he overseas HUD priority projects, employee engagement initiatives, the agency's competitive grants process, and efforts to create and grow process improvement capacity inside the agency. Henry has been at HUD since 2008 and has led OSPM since 2013. Prior to joining HUD, Henry worked for the State of New Jersey Office of Information Technology as the Public Information Officer. He received his Master's in Public Policy from Georgetown University's McCourt School of Public Policy and Bachelor's in Economics from The College of New Jersey.