| | |
| --- | --- |
| Want to do business with HUD? | Looking for specific opportunities? |
---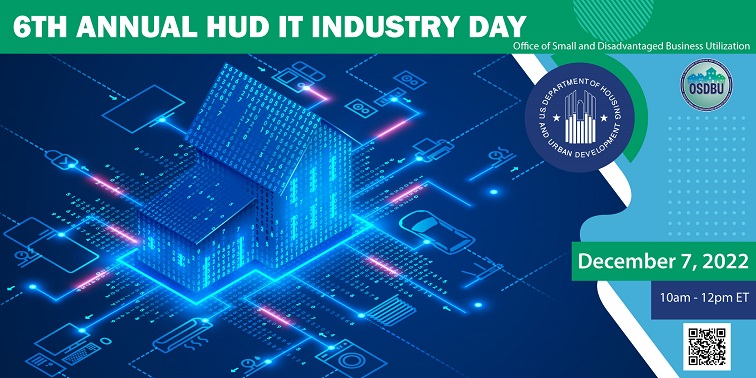 The U.S. Department of Housing and Urban Development's (HUD) Office of Small and Disadvantaged Business Utilization (OSDBU) is hosting the Department's 6th Annual HUD IT Industry Day. This virtual industry day is scheduled for Wednesday, December 7, 2022 from 10am - 12pm (ET). This will be a Microsoft TEAMS event. This event will provide businesses a chance to hear from HUD's leadership about their organization's IT Portfolio, vision, and IT acquisition needs. Event participants will hear from HUD's Chief Procurement Office, Chief Information Office, Government National Mortgage Association (Ginnie Mae), and Office of Inspector General. The registration link is: https://HUDOSDBU6thITIndustryDay.eventbrite.com. For any questions, please contact Doan Ly Nguyen, Doan.H.LyNguyen@hud.gov.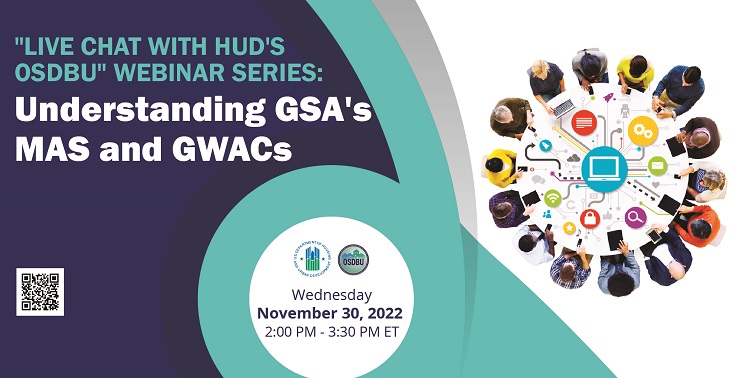 We invite all small and small disadvantaged businesses to come and join HUD's OSDBU as we partner with the U.S. General Services Administration (GSA) to learn how GSA's Multiple Award Schedules (MAS) and Governmentwide Acquisition Contracts (GWAC) can help grow your business. MAS is a long-term governmentwide contract with companies that provide access to millions of commercial products and services at fair and reasonable prices to the government. MAS makes buying easy and efficient with the use of modern technology to connect government buyers and industry. GWACs are a pre-competed, multiple-award, indefinite delivery, indefinite quantity contract that agencies can use to buy IT solutions more efficiently and economically. In addition to the focus on GSA schedules, there will be information shared on how to do business with HUD more generally. Registration: https://LiveChatGWAC.eventbrite.com.
---
Office of Small & Disadvantaged Business Utilization
The OSDBU is responsible for ensuring that small businesses are treated fairly and that they have an opportunity to compete and be selected for a fair amount of the Agency's prime and subcontracting opportunities.
The Department of Housing and Urban Development is committed to providing universal access to both small businesses and large businesses. The Agency recognizes that small businesses are of vital importance to job growth and the economic strength of the country. A successful and strong business community is an integral component of the Department's overall mission of job creation, community empowerment and economic revitalization.
This site provides information to assist you in your marketing and educational efforts. Thank you for your interest in doing business with HUD.
If you are a small business interested in doing business with HUD and would like to receive emails on HUD procurement, small business events, industry days and general information, please register here.