NSPIRE News: November 24, 2020
Round One Of NSPIRE Virtual Workshops Completed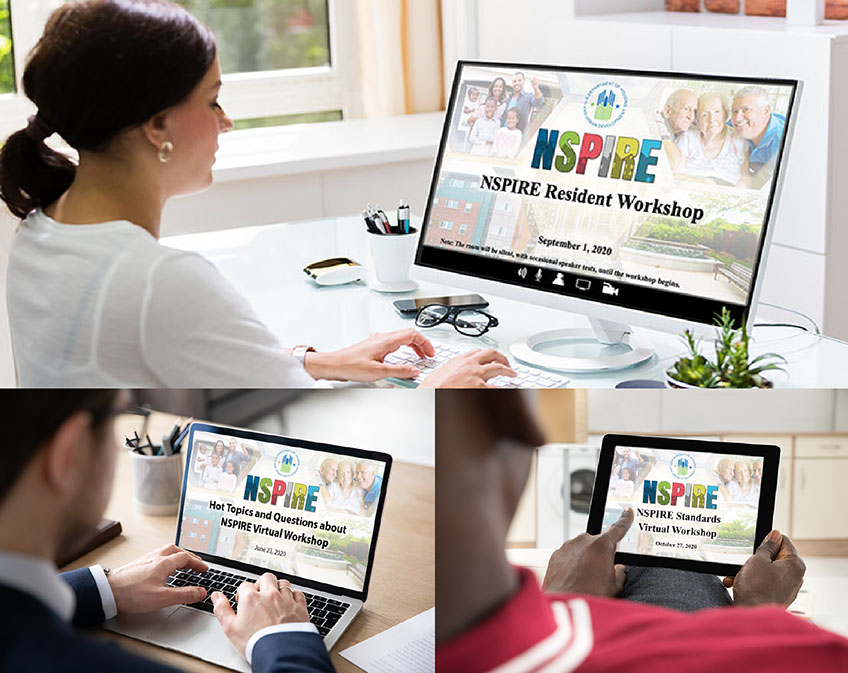 HUD has completed round one of its NSPIRE virtual workshops! Between June and October of 2020, HUD conducted 21 virtual workshops. During these events, HUD was able to work with over 440 participants to get their input and opinions on the various elements of NSPIRE, including the NSPIRE standards. The participants represented a wide array of stakeholders, including residents, resident groups, property owners and managers, and public housing authorities (PHAs).
HUD conducted NSPIRE virtual workshops on:
June 23
July 29
August 11, 18, and 25
September 1, 15, 22, and 29
October 8, 13, and 27
While some workshops covered topics like the NSPIRE Demonstration, voucher programs, self-inspections, and resident concerns, most focused on the NSPIRE standards. Workshop attendees reviewed NSPIRE standards in detail, covering specific deficiencies, protocols, tools, and more. HUD will use the feedback to help achieve its goal of having physical inspection standards that are objective, defensible, and repeatable.
HUD received many positive comments from attendees about the workshops, including these notable quotes:
"The most positive aspect to NSPIRE is its desire to improve quality of life for residents and address unit needs in a meaningful way. If it helps to generate additional revenues to tackle those improvements, it will be a win for residents."
— Wandae Johnson, Charlottesville Public Housing Association of Residents (PHAR)
"I thought it was overall a great workshop. We were able to voice our concerns and comments."
— Dawn Vance, Regional Property Manager, Michaels Management
"I thought this is a good format to get feedback, so thank you for all you are doing to make the best inspection protocol possible."
— Bonnie McPhillips. Executive Director, Columbus Housing Authority/Heritage House
"This really went very well for me. I don't see anything that could improve it. It was well thought out."
— Alan Zais, Winnebago County Housing Authority
HUD is planning more workshops and feedback events in 2021 to solicit additional input from residents and other stakeholders. HUD will announce the upcoming workshop schedule as soon as possible. In the meantime, HUD has made materials from previous workshops available on the HUD.gov website.