NSPIRE News: October 26, 2020
NSPIRE: A Model of Continuous Improvement
You may know that HUD is developing the NSPIRE standards now. You may also know that HUD has been collecting input and feedback from many sources to refine the standards. But did you know that HUD will continually update the NSPIRE standards?
HUD approaches the NSPIRE standards with some key principles:
people-centered design;
focus on efficiency;
science-based rationales;
continuous improvement through collaboration; and
streamlined operations.
NSPIRE introduces an innovative process to ensure regular updates to standards. These updates will occur at least every three years through Federal Register notices—including opportunities for public comments.
The update process calls for rigorous feedback cycles to support continual learning and constant improvement. It entails regular and repeated input from stakeholders, including technical subject matter experts. It will also incorporate results from field testing and evaluation.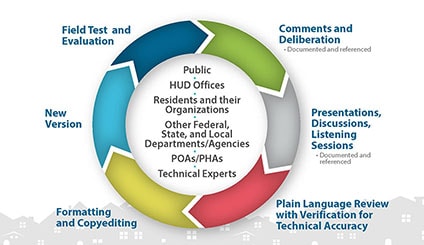 To support the process, HUD envisions a solid framework to provide technical input and scientific guidance. This involves working with partners across the federal government and other expert networks to build an "intellectual infrastructure" on physical inspection standards. HUD will evaluate threats to residents' health (mold, bed bugs, lead, etc.) based on scientific guidance and expert judgment. This framework will provide a new level of teamwork and rigor in the development of NSPIRE standards.
With NSPIRE, HUD embraces a responsive model for developing standards. The cyclical process of contact and review supports this. The model considers stakeholder needs and program efficiency. It also allows for changes in technology.
NSPIRE helps ensure an accurate assessment of the physical condition of a property. The design of the cyclical process of contact and review supports this goal. NSPIRE has transparency, teamwork, and rigor built into this system. NSPIRE standards will provide inspectors the tools needed to better assess the physical condition of a property. They also allow inspectors to better identify health and safety risks to residents. This continuous update model helps meet this goal, both now and well into the future.