NSPIRE News: February 13, 2020
NSPIRE Needs Your Input!
Early Versions of NSPIRE Standards are Ready!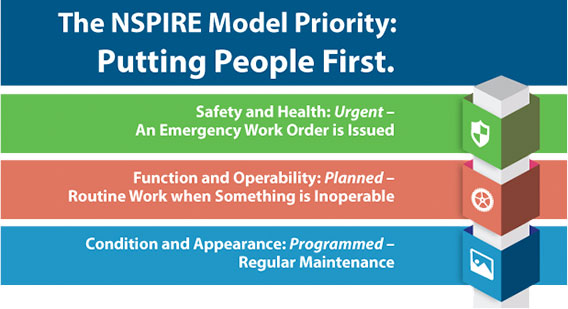 HUD has released early versions of NSPIRE standards for HUD-assisted housing and welcomes comments to ensure clarity, accuracy, overall usability, and any other relevant aspects.
These early versions, and instructions on how to submit feedback on them, can be found on the NSPIRE Standards page.
Taking into account public comments that HUD has received, we have reviewed the rationales and the health and safety determinations in the standards and made extensive changes to them in Version 1-2. The rationales are at the core of the NSPIRE process, and we welcome all comments on these revised rationales and health and safety determinations as well.
HUD values your input and looks forward to receiving your feedback!
The NSPIRE model builds on three mutually supporting elements consisting of three types of inspections, three categories of deficiencies, and three inspectable areas. When employed together, these components will increase focus on residential units, reduce inspection complexity, and increase confidence in HUD's ability to distinguish safe and habitable houses from substandard properties.
NSPIRE introduces a system of more objective standards and simpler protocols that will enable a trained inspector to detect, identify, and record deficiencies more accurately and submit those results to HUD using upgraded software. These ''objective standards'' will be in the form of Critical to Quality Indicators (CTQs). CTQs are a well-defined subset of NSPIRE Standards that have a high correlation to overall quality and are calibrated to provide strong assurance that a property conforms with HUD's minimum property standards. Simply put, when a deficiency is noted against a CTQ or several CTQs, there will be a high correlation to substandard conditions within a property. This direct correlation to quality allows for inspections built around CTQs to evaluate fewer standards but remain highly effective in determining substandard conditions.
To learn more about NSPIRE, please visit:
https://www.hud.gov/program_offices/public_indian_housing/reac/nspire