HUD'S NSPIRE DEMONSTRATION
AGENCY SET TO TEST OVERHAUL OF 20-YEAR OLD INSPECTION PROTOCOLS
With the release of the National Standards for the Physical Inspection of Real Estate (NSPIRE) Demonstration Notice, HUD announced another step to overhaul the Department's 20-year-old inspection process to ensure taxpayer-supported housing is safe and habitable for residents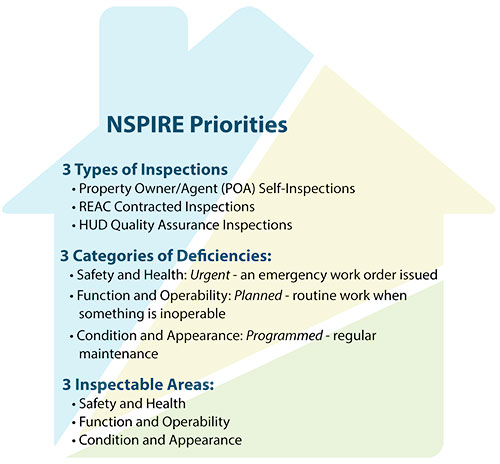 .
As part of a reexamination of the inspection protocol used by REAC, HUD has launched a new demonstration to test new approaches for making certain thousands of public housing authorities (PHAs) and private owners provide housing that is safe and livable.
During the NSPIRE Demonstration, HUD will inspect approximately 4,500 properties from a pool of nationwide volunteers who are willing to adopt the new physical inspection standards at their properties. NSPIRE demonstration inspections began after the 60-day public comment period that concluded October 21, 2019.
The NSPIRE Demonstration assesses all aspects of REAC's physical inspection process, including the evaluation of physical inspection data and a new scoring model. The goal is to design a new simplified inspection system that more accurately reflects the physical conditions within housing units and to place a greater emphasis on issues like lead-based paint hazards and mold.
The 60-day public comment period has ended; however, HUD welcomes additional feedback. Please see the Connect with Us links and sign up for the spam-fee mailing list to keep up to date of the latest NSIPRE developments. You can also email HUD your feedback at NSPIRE@hud.gov.
Read about the NSIPRE Demonstration and associated protocols at: