The New REAC Inspection for A New Era
National Standards for the Physical Inspection of Real Estate (NSPIRE)  
The U.S. Department of Housing and Urban Development has begun a wholesale reexamination of Real Estate Assessment Center's (REAC) 20-year old inspection process. It has been HUD's observation that many public housing authorities and private owners of HUD-subsidized housing have grown accustomed to REAC's inspection regime and, in some cases, invest more resources in passing minimal inspection requirements rather than satisfying their obligation to provide quality housing.
HUD's first step in initiating inspection changes is to reduce the amount of inspection notice to property owners and their agents from 90-120 days to 14 calendar days.
Next, there will be a demonstration to test new standards for inspecting, and collecting information about, the condition of most properties – called the National Standards for the Physical Inspection of Real Estate (NSPIRE). This two-year demonstration is expected to begin later in 2019. HUD will continuously collect feedback and suggestions about the changes.  However, outside of a new 14-day notice policy, and an expected policy to come requiring carbon monoxide detectors in units/buildings where there are fuel burning devices, all other REAC inspections will continue according to the current Uniform Physical Condition Standards inspection protocol for properties not participating in the demonstration.
The proposed National Standards for the Physical Inspection of Real Estate (NSPIRE) model is being designed on three mutually supporting elements consisting of three types of inspections, three categories of deficiencies, and three inspectable areas.  When employed together, these components will increase focus on residents' homes (unit), reduce inspection complexity, and increase confidence in HUD's ability to determine which owners are not providing housing that is safe, healthy, and decent.   
Within the NSPIRE model, REAC plans to receive and evaluate results from inspections conducted by owners, contract inspectors, and REAC federal inspectors, with each of the three types of inspections providing an increasing level of confidence in the overall results. 
The NSPIRE deficiencies will focus in priority order on: Safety and Health; Function and Operability; and Condition and Appearance.  The NSPIRE model will also make the inspection more intuitive and less complex by reducing the number of inspectable areas from five to three.  Improvements in the inspections will drive significant change throughout the entire inspection life-cycle from data collection, to scoring, to ensuring resident safety.  The proposed NSPIRE Demonstration will inform and guide any future implementation of the model and other resulting changes. 
The end goal is to design a new simplified inspection system more focused on the physical conditions within housing units and to place a greater emphasis on lead-based paint hazards and mold.
NSPIRE Model – The Concept: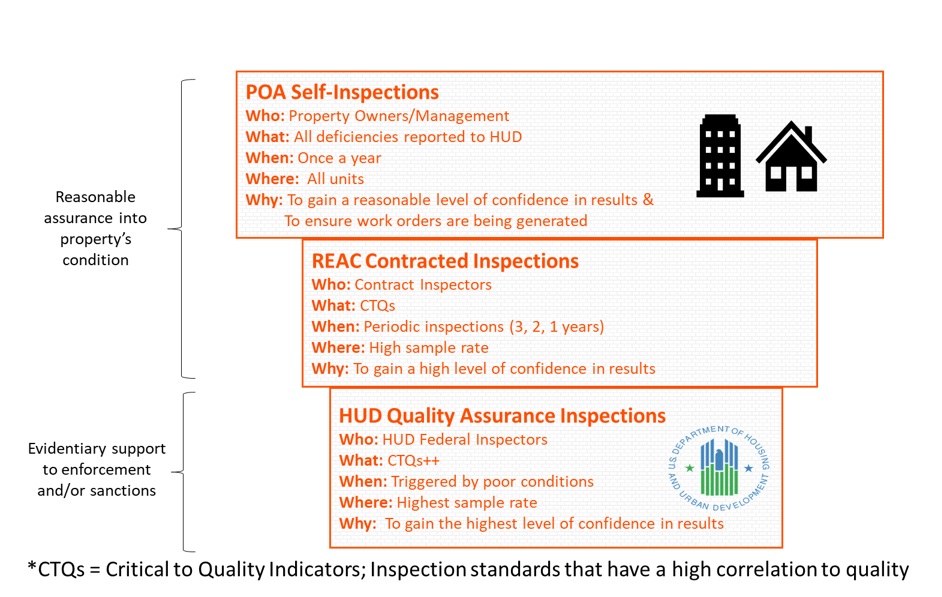 REAC is responsible for inspecting properties owned and operated by approximately 3,700 local public housing authorities nationwide. In addition, REAC-contracted inspectors evaluate approximately 23,000 privately owned apartment buildings. Combined, approximately 96 percent of these properties currently pass their inspections.