Moving to Work (MTW) - Promising Practices
Since Moving to Work (MTW) is a demonstration program, HUD has focused on analyzing the various programs and policies implemented by MTW sites and their associated results. A significant feature of this effort is to identify promising practices by MTW agencies that with statutory or regulatory changes could be replicated at other public housing authorities nationwide.
Below, we have expanded on the activities of the two agencies highlighted on the MTW homepage: the San Diego Housing Commission, and the Tacoma Housing Authority.
At the bottom of the page, we have also provided agency-specific reports of other "promising practices" as of 2008 and 2009.
MTW Family Self-Sufficiency (FSS) Innovations
The MTW Demonstration allows MTW agencies to design and test various flexibilities in implementing the Family Self-Sufficiency (FSS) program. Agencies have used this flexibility to design and test better ways to serve families in their FSS programs. This document, relying on MTW agency submitted Annual MTW Plans and Reports, outlines some of the ways in which MTW agencies have utilized authorizations in the MTW Agreement to implement innovations around the FSS program or to create local self-sufficiency programs.
San Diego Housing Commission's Historic Renovation of Hotel Churchill
The San Diego Housing Commission (SDHC) is collaborating with Housing Development Partners (HDP), its nonprofit affiliate, to renovate the historical Hotel Churchill to create a total of 72 affordable units for homeless individuals. SDHC acquired the seven-story building, built in 1914, in 2011, and construction began in May 2015.

The 72-unit rehabilitation project will designate 56 units for veterans, 8 units for youth that are aging out of foster care, and 8 units for adults in need of supportive services. All units will remain affordable for at least 65 years: the units will serve individuals at or below 60 percent of San Diego's Area Median Income (AMI) for 55 years, and will then serve individuals at or below 80 percent of AMI for an additional 10 years. The project will also include on-site social services and case management. San Diego's light rail, known as The Trolley, is at the doorstep of the Hotel Churchill and can be easily accessed by its residents.
MTW gives PHAs the ability to combine their Section 8 and Section 9 funds and use them interchangeably. This flexibility allowed SDHC to devote $9.2 million of its funds towards the project. Additional funding came from HOME Investment Partnerships Program funds, the City of San Diego's SRO In-Lieu fees, the Housing Trust Fund, the Inclusionary Housing Fund, and Civic San Diego. The County of San Diego Mental Health Department will provide permanent supportive services for the 16 non-veteran adults, and the U.S. Department of Veterans Affairs will provide supportive services for the 56 homeless veterans.
The rehabilitation is expected to be completed later in 2016. For more information, visit the SDHC website.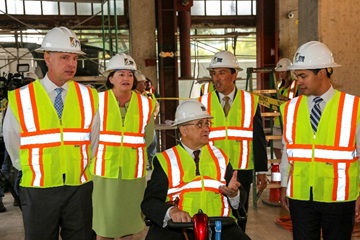 HUD Secretary Julián Castro (far-right), alongside SDHC President and CEO Rick Gentry, tours the Hotel Churchill construction in October 2015
(San Diego Housing Commission Photo)
Tacoma Housing Authority's Public Schools Special Housing Program
Tacoma Housing Authority (THA) partnered with Tacoma Public Schools (TPS), community partners, and the parents, teachers and staff of McCarver Elementary School to create this initiative in the fall of 2011. The program has five components:
Rental assistance and supportive services to homeless families or families on the verge of homelessness and who also have a child enrolled in kindergarten, first, or second grade at McCarver;

Two full-time caseworkers that meet with parents and students and coordinate the services of roughly 30 public and nonprofit partners;

Parental commitment to keep their children enrolled at McCarver, to encourage their children's educational development both in and outside of school, to support their own employment and education prospects, and to collaborate with their caseworkers;

The dedication of TPS in supporting the program and converting McCarver's curriculum to an International Baccalaureate Primary Years Programme (IB); and,

Professional evaluation through Geo Education & Research in monitoring performance measures.
Tacoma Housing Authority Photo
THA and TPS agreed to expand the program to additional TPS schools during the 2016 school year as a result of positive outcomes from Geo Education & Research evaluations. For more information, visit the THA website.
Promising Practices
Two other methods HUD has used to measure the programs successes are Case Studies of individual agencies and issues and a long term National Evaluation.