Southwest Office of Native American Programs (SWONAP)
SWONAP ensures that safe, decent and affordable housing is available to Native American families, creates economic opportunities for Tribes and Indian housing residents, assists Tribes in the formulation of plans and strategies for community development, and assures fiscal integrity in the operation of the programs. Join Our Mailing List.
Service Area: Arizona, California, Nevada, New Mexico & Ysleta del Sur
Weekly Information Bulletins
---
What's New
Hualapai Tribe puts THE (Tribal Housing Excellence) Academy training into practice
March 21, 2019
Peach Springs, AZ – In August 2016, Jamie Navenma drew on his nearly 25 years of experience working in Tribal homeownership as he surveyed housing on the Hualapai Indian Reservation in northwestern Arizona. What he saw both encouraged and distressed him. Read more
---
Colorado River Indian Tribes Open New Fire Safety Substation:
Indian Community Development Block Grant (ICDBG) - –Fire Safety Substation
Colorado River Indian Tribes (CRIT) is located in southwestern Arizona. CRIT was awarded $825,000 in ICDBG funds in FY2015. The Tribe leveraged $280,000 in tribal funds. ICDBG funds were awarded to construct a Fire Safety Substation of approximately 5,218 sq. ft in Parker Arizona, creating 5 new jobs. The project was started on Feb. 12, 2016 and completed on Nov. 30, 2018. The ICDBG Grant was closed out in Jan. 2019.
New Fire Safety Substation located on the Colorado River Indian Reservation near the town of Parker, Arizona. This facility will be a new substation where firefighting capability, firefighting training and Emergency Response & Emergency Medical Services (EMS) will be provided in the northern section of the reservation. This is the area of the reservation adjacent to the Town of Parker where the majority of Tribal residences and most of the Tribes' economic, community service and governmental facilities are located. The proposed project will ultimately incorporate two phases. Phase 1 of the Fire Substation will result in a stand-alone facility that is in no way dependent on Phase 2 being completed to provide the firefighting, training and EMS services that it's designed to offer Phase 2 of the project will further expand the mission capabilities.
Enhancement of the Tribal Community's Viability:
CRIT has a critical need for this new Fire Safety Substation. In 2012, out of a total of 1,209 fire and emergency response calls, 1,064 or 88% were from the area of the reservation near the Town of Parker, AZ, the proposed location for the new Fire Safety Facility (Fire Station). Calls from the Poston area where the existing facility is located numbered 145 or 12%. In 2011, of 1,074 calls, 921 were from Parker. Currently, the only existing fire station serving this area is a single bay facility of approximately 1,800 square feet located 15 miles from the main population center.
Since an adequate facility did not currently exist, the most cost effective and efficient method was to construct a new fire substation facility located in the northern section of the reservation. The location selected is adjacent to the highest concentration of Tribal residences and near most of the Tribe's major economic community service and administrative assets including BlueWater Resort & Casino, the Moovalya and River People's Shopping Plazas; the IHS Hospital, Department of Health Services complex; the Tribal Administrative & Government complex and the Avi Suquilla Airport. The ability to provide an up-to-date, appropriately equipped Fire Substation will significantly improve the overall level of public safety and health thereby providing a benefit for every Tribal member and Native American resident of the reservation and increase the viability of the Tribal Community as much as any other type of project that could be conceived at this time.
---
TOKA breaks ground on first market-rate rental housing development
March 7, 2019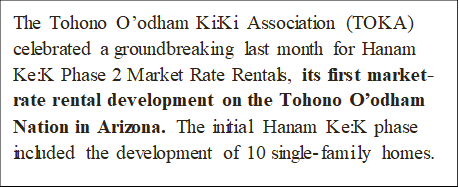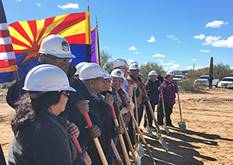 (Groundbreaking photos courtesy of Team TOKA)
In this phase, TOKA is building 12 townhomes – divided across three buildings with four units each– in the Gu Achi District of the Nation. Gu Achi district lands are about 50 miles from the town of Casa Grande, AZ.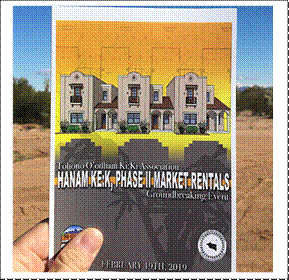 (Architectural rendering by Travois Design)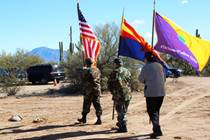 TOKA, an award-winning developer with years of experience in creating affordable housing, is undertaking this new initiative to develop market-rate housing because it recognizes an unmet housing need for professionals who do not qualify based on low-income guidelines. The townhomes will be located near the Archie Hendricks Sr. Skilled Nursing Facility and within close distance to several schools. Team TOKA said that without housing in this area, working professionals could have commutes of up to two hours each way (four hours total per day).
Team TOKA shared that no federal funds were used for this project; instead, TOKA is using a combination of federally-backed loans and investment funds. One of the unique features of the development is that the housing will be open to anyone with an affiliation to the Nation – those who live within the Nation or who are employed by the Nation. The units will feature Spanish Mission-style and/or colonial barrio details, covered patios and courtyards, in-unit laundry and spacious layouts.
Team TOKA said, "We feel like the best resource for self-sufficiency is through employment and other opportunities for our people. We are looking to be self-sufficient and create employment and economic development opportunities. This project and these rentals will be the first step in this process. "The best way to help our own self-sufficiency is to help everybody – not being exclusive to our own tribal members. Allowing for a more open project base, we will realize jobs and other types of self-sufficiency. Being more open to serving the needs of everyone with ties to the Nation, whether they are members from other tribes or professionals providing their services on the Nation – providing housing services for all will help us serve the needs of our own people."
Construction is expected to be completed in 2020. TOKA has a master plan with additional phases of housing and a recreational center hopefully coming to fruition in the future.
---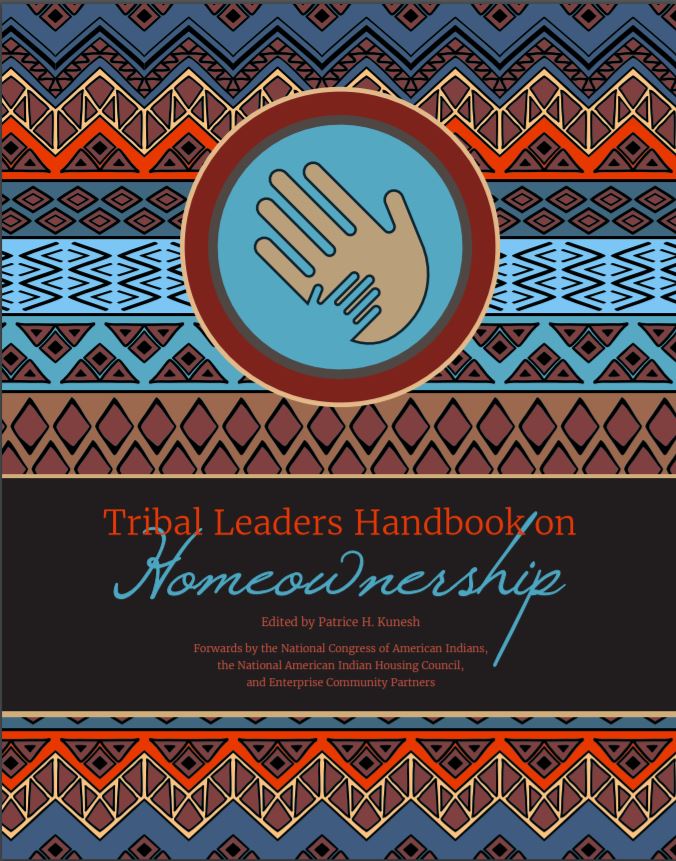 The Center for Indian Country Development's Tribal Leaders Handbook on Homeownership provides detailed examples, case studies, checklists, and information on developing affordable homeownership in Indian Country. This essential guide provides information on new mortgage programs (government and private), the new kinds of lenders (loan funds, Native CDFIs), and the new energies that are transforming Indian housing. Download a copy HERE.
---
Home assessments can help make homes healthier. Checklist covers the major contributors to asthma and allergies, with suggested action items that are generally simple and low cost. Download a copy HERE
---
ONAP OFFERS FREE TECHNICAL ASSISTANCE AND TRAINING
HUD's Office of Native American Programs offers FREE Training and Technical Assistance (T/TA) for Tribes and Tribally Designated Housing Entities for a wide variety of tribal housing and related issues. To request specialized Technical Assistance and/or Training from SWONAP click here and complete the form and email to Debbie Broermann at Deborah.S.Broermann@hud.gov or Cheryl Dixon Zuni at CherylDixonZuni@hud.gov.
---
Contact Information
Phoenix Office
One North Central Avenue, Suite 600
Phoenix, AZ, 85004-2361
Telephone: (602) 379-7200
FAX: (602) 379-3101

Albuquerque Office
500 Gold Avenue SW, 7th Floor, Suite 7301
PO Box 906, Albuquerque, NM 87103-0906
Phone: (505) 346-6923
FAX: (505) 346-7220
Partners & Service Providers