Office of Native American Programs (ONAP)
---
What's New on Codetalk
Meet Sharon! Section 184 Home Loan Guarantee homeowner
February 12, 2019
| | |
| --- | --- |
| | "It was very rewarding to have the house keys handed to us" |
Sharon Kidman of Albuquerque, New Mexico purchased a 3-bedroom, 1,750 square foot home in 2011 using the Section 184 Home Loan Guarantee Program.  Since program inception in 1992, HUD's Office of Native American Programs has guaranteed nearly 43,000 loans providing $7.3 billion investment in Native communities.  To read her story, Click Here. 
---
Presentation Slides and Recording Available for ONAP Best Practice Webinar Series featuring: San Felipe Pueblo Housing Authority
December 6, 2018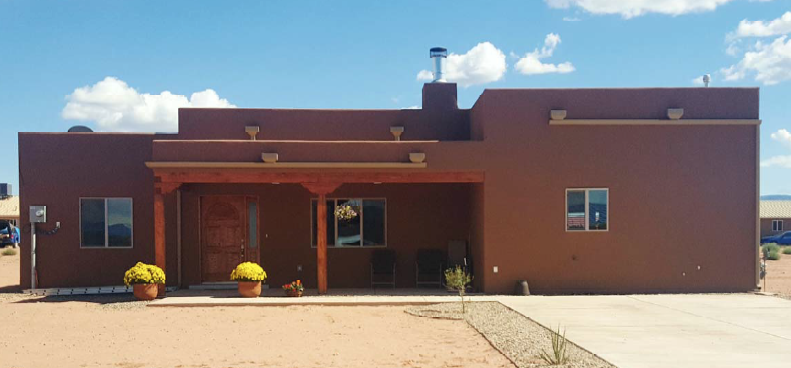 The second installment of HUD's National Best Practices Webinar Series will feature HUD Deputy Assistant Secretary, Heidi Frechette, interviewing Isaac Perez, Executive Director of the San Felipe Pueblo Housing Authority about their construction and renovation program to build homes that fit the traditional and cultural customs of the tribal members of the Pueblo of San Felipe. Through comprehensive planning, tribal input and coordination, and financed leveraging they were able to construct the first ever subdivision of the Pueblo of San Felipe. Learn about their Title VI conversion to 184 Loan process and tribal mortgage program. 
---
HUD Secretary Carson's Statement on Native American Heritage Month
November 26, 2018
Each year, in the month of November, we take the time to recognize and celebrate Native American Heritage Month. During this time, we honor American Indians and Alaska Natives, their great contributions to our Nation and the world, and their rich history on this continent.
Here at the Department of Housing and Urban Development (HUD), this is also a time when we once again recognize our longstanding deep commitment to the government-to-government relationship that we share with these sovereign Indian nations. That commitment is reflected in the critical work that HUD does daily to support Indian Tribes' self-determination as they develop affordable housing, expand homeownership opportunities for Native Americans, address critical infrastructure needs in Indian Country, and strengthen families and Tribal communities.
In my own travels to Indian Country, I have witnessed first-hand the incredible work that Indian Tribes have done with the support of HUD programs. It is inspiring to see that, with HUD support, Tribes have strengthened their communities with innovative supportive housing projects for low-income families, large infrastructure projects that create job opportunities for Tribal members, critical broadband projects involving the installation of fiber optic cables, and so much more. Indian Tribes continue to effectively use HUD programs to better the lives of their members.
Finally, I am particularly proud of our collaboration with the Department of Veterans Affairs to offer the Tribal HUD-VASH program to our Native veterans. These veterans have served our country nobly and we owe these heroes a great debt. I am encouraged by the growing number of Native American veterans who have received assistance under this program and look forward to our continued work towards addressing homelessness amongst veterans.
We are proud of our work with our Tribal partners to further affordable housing opportunities for families in Indian Country, and we honor their rich cultures, traditions, history, contributions, and sacrifices.
Secretary Carson
---
Indian Community Development Block Grant (ICDBG) NOFA: National Webcast, Regional Training Session, and Program Guidance Published 
November 25, 2018
The ICDBG Program provides eligible grantees with direct grants for use in developing viable Indian and Alaska Native Communities, including decent housing, a suitable living environment, and economic opportunities, primarily for low and moderate income persons. Projects funding by the ICDBG program must principally benefit low-and-moderate-income persons. Up to $65M is available through this NOFA. Deadline date of January 7, 2019.  Questions? Email: ONAP-ICDBG@hud.gov. 
Application Resources (Click on each bullet):  
---
Section 184 Financing for Tribes webinar November 8th Recording Available
November 19, 2018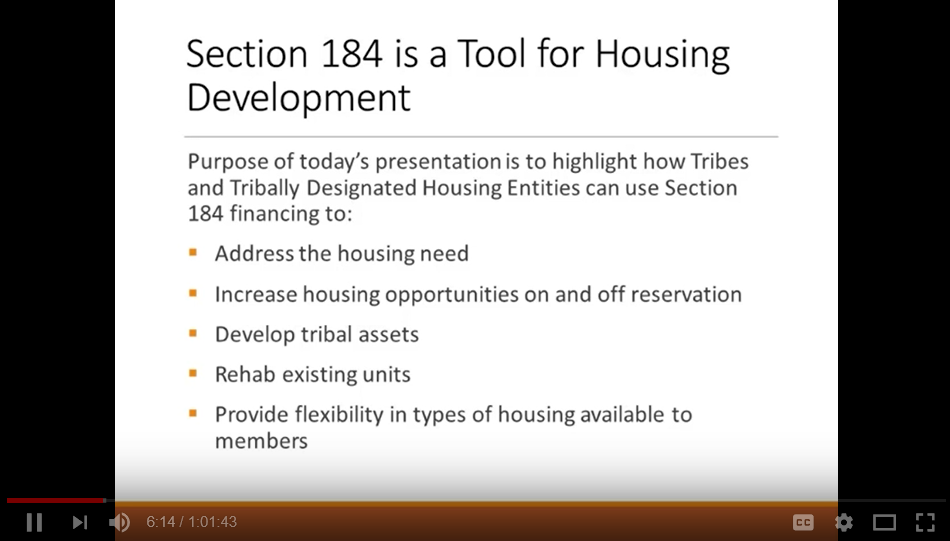 The Section 184 Indian Home Loan Product is the #1 federal loan guarantee program serving American Indian and Alaska Native families across the country! Did you know that Tribe's can also use the Section 184 loan to construct, rehabilitate, or acquire single families homes both on and off reservation?  The definition of Single Family includes a single unit, duplex, triplex, or a 4 plex.  As a tribe you can then use your units as rentals or sell it to families in your community.  Recorded webinar features Deanna Lucero, Section 184 Loan Guarantee Program Senior Loan Guarantee Specialist with the U.S. Department of Housing And Urban Development.
Click Here for Presentation Slides
Click Here for YouTube Recording
---
Imminent Threat Grants Program Guidance Published
November 14, 2018
Program Guidance 2018-04 summarizes the Indian Community Development Block Grant (ICDBG) Imminent Threat (IT) program including the funding criteria for application procedures and examples of applications that could be funded. This guidance supersedes Guidance 20 17- 01(R), Imminent Threat Grants.
---
Dear Tribal Leader Letter regarding Section 184 Proposed Regulations – Tribal Comments on Draft Subparts B and C
November 5, 2018
Published today, this Dear Tribal Leader letter and attachments seek tribal input on the regulations for the Section 184 Indian Housing Loan Guarantee (Section 184) program.  Please see the below Subparts B & C of the draft proposed Section 184 regulations, for your review and comment. 
All comments may be submitted to: 184consultation@hud.gov. Alternatively, Tribes may submit comments by postal mail to: Krisa Johnson, Director Office of Loan Grantee, HUD – Office of Native American Programs, 451 Seventh Street SW, Room 4108, Washington, D.C. 20410.  For more information visit: Consultation on Section 184 Regulations webpage. 
HUD also will be conducting a second in-person tribal consultation on the draft proposed rule during the National American Indian Housing Council (NAIHC) legal symposium held December 10-12, 2018, in Las Vegas, Nevada. 
---
Amended ONAP Program Guidance for Completing the Indian Housing Plan/Annual Performance Report published
October 21, 2018
Effective October 1, 2018, please refer to 2018-02a: Guidance for Completing the Indian Housing Plan/Annual Performance Report (form HUD-52737) (Amended 10/01/2018) and the Attachment: Step-by-step instructions (Amended 10/01/2018)
---
ONAP Best Practices Webinar Series featuring: Lummi Nation Housing Authority 
September 25, 2018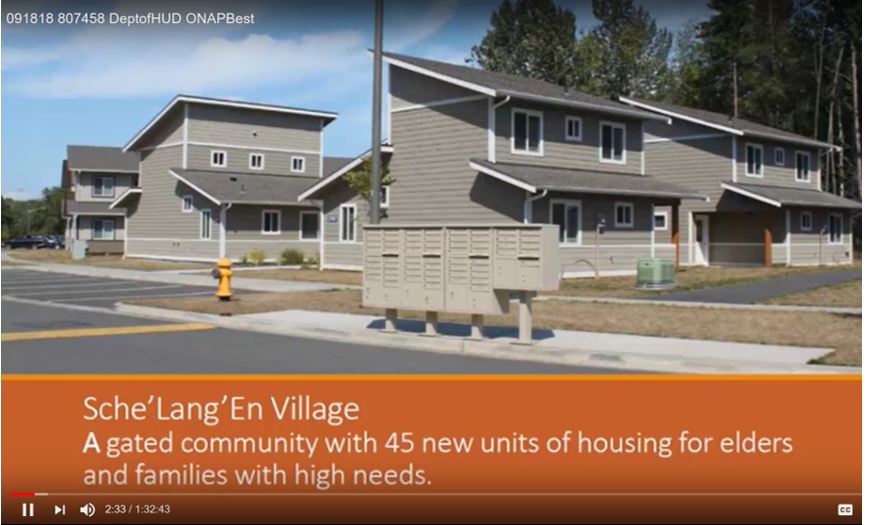 On September 18th, HUD Deputy Assistant Secretary, Heidi Frechette, interviewed Diana Phair, Executive Director of the Lummi Nation Housing Authority about their Sche'Lang'En (Our Way of Life) Village, a 45-unit gated Transformational Housing with Supportive Services. Housing is intended for individuals and families making transformational life changes and/or recovering from homelessness, domestic violence, substance use disorders, and looking to reunify with their children. Utilizing a $5,600,000 Title VI loan to complete the project, the detached homes are clustered in pods of four with a shared covered alcove to encourage families to get to know one another. The village features walking paths encourage exercise; community facility used for weekly meetings, playgrounds, and, a community garden provides fresh vegetables for families.
Download webinar materials:
---
View Archive - What's New on Codetalk Highlights
Questions? Contact the ONAP Web manager.
ONAP Offices and Tribal Contacts