About ConnectHomeUSA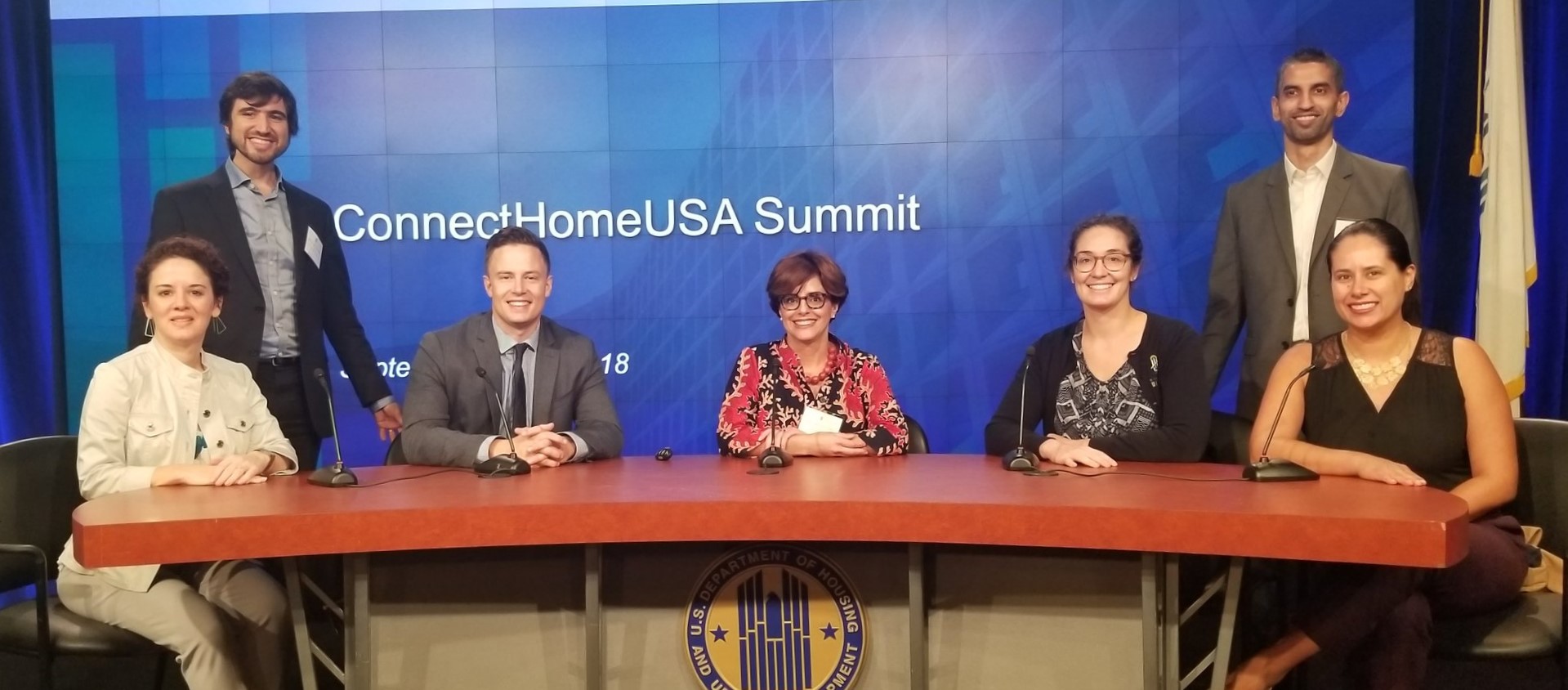 HISTORY AND EXPANSION
THE CONNECTHOME PILOT PROGRAM (2015)
HUD's ConnectHome pilot program was launched in 2015 to address the "homework gap" for students in grades K-12 living in public and Indian housing. While in school, public housing students typically have access to the Internet, but once they go home, the Internet is often unavailable mostly due to the cost of Internet service, the cost of devices, or both. To address this problem, HUD issued a Federal Register Notice asking interested public housing authorities and tribes to join forces with their city municipal leadership to close this gap in their communities. Twenty-eight communities were selected to participate. The twenty-eight communities, working hand-in-hand with private sector stakeholders that made commitments to support this work, helped connect approximately 20,000 of households to the Internet, provided hundreds of hours of digital literacy training, and distributed thousands of free or low-cost devices.
---
THE EXPANSION PROGRAM – CONNECTHOMEUSA (2017-PRESENT)
Capitalizing on the pilot program's success, HUD, in partnership with EveryoneOn, drove the design, implementation, and expansion with a new program, ConnectHomeUSA. Launched in 2017, ConnectHomeUSA creates a platform for community leaders, local governments, nonprofit organizations, and private industry to join together and produce locally-tailored solutions for narrowing the digital divide. Through these stakeholders' specific commitments to provide free or low-cost broadband access, devices, and digital literacy training, ConnectHomeUSA extends affordable access to low-income families, ensuring that high-speed internet follows our children from their classrooms back to their homes.
To date, the initiative has accepted 100 cities across the country into the program, most recently onboarding 13 new communities, and thereby reaching the initiative's goal of expanding to 100 cities by 2020. ConnectHomeUSA communities are working to increase the number of connected residents by at least 15% each year.
It is estimated that through the efforts of both initiatives, so far over 75,800 previously-unconnected families were connected to the Internet and over 30,000 devices were distributed to communities across the country. This translates to an estimated leveraged value of $26.9 million. 
---
THE FUTURE OF CONNECTHOMEUSA
HUD will continue to refine the ConnectHomeUSA model with the goal of sharing best practices and developing new technical assistance resources so that more communities can implement successful digital inclusion programs. Plans are underway to issue a series of replicable connectivity case studies and to publish a new iteration of the ConnectHomeUSA Playbook in fiscal year 2021. The ConnectHomeUSA Playbook is a step-by-step guide that helps Public Housing Authorities (PHAs) and stakeholders plan a comprehensive digital inclusion program which addresses a community's need for high-speed Internet, low-cost devices, and digital literacy trainings.
Through its continued support of this initiative, the Department is helping to ensure that HUD-assisted residents can improve their quality of life through access to 21st century tools and training and opening the doors to economic and educational opportunity.
In July 2021, HUD transitioned back to leading the ConnectHomeUSA project.