Before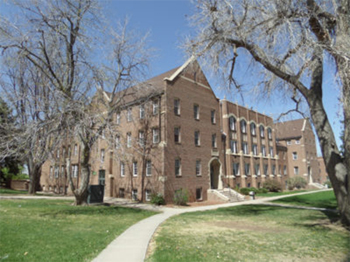 PROPERTY HIGHLIGHTS
Denver, CO
72 units
Affordable Apartments
ORIGINAL USE
Built in 1930 as a dormitory for the Loretto Heights college campus
YEAR BUILT
Anticipated Completion: Fall 2022
FHA ROLE
HIGHLIGHTS
Low Income Housing Tax Credits
Historic Tax Credits
Tax Exempt Bonds
Colorado HFA Risk Share Loan
Capital Magnet Fund Loan and Grant
After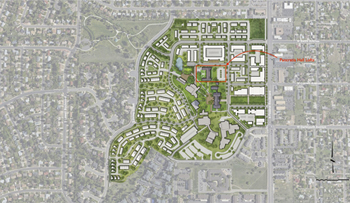 ADAPTIVE REUSE WITH FHA FINANCING
PANCRATIA HALL
DESCRIPTION OF PROJECT
This project is an adaptive reuse of a vacant school and dormitory building at the historic Loretto Heights college campus in Denver, CO.
Pancratia Hall is a four-story, red brick, Collegiate Gothic style building constructed between 1929 and 1930, originally designed by master architect Harry W. J. Edbrooke.
The adjacent Administration Building is on the National Register of the State Historic Office listing, and Pancratia Hall will be added to this listing once construction is complete.
Pancratia Hall and the remaining portion of the campus will be converted into a master planned community.
The vacant dormitory building will be transformed into a 72-unit affordable multifamily project targeting families with incomes between 30% and 80% of AMI.
The experienced and well capitalized sponsor has recent experience with historical adaptive reuse multifamily projects in Colorado.
FINANCING STRUCTURE
Sources of funds include:
Colorado Housing Finance Authority (CHFA) providing the FHA 542(c) Risk Share Loan ($7.8 MM)
City Tax Abatement for a minimum of 15 years
Federal and State Low Income Housing Tax Credit Equity
Tax Exempt Bonds
Capital Magnet Fund Loan and Grant
Total Construction Cost: Approx. $24.8 MM
Scope of Work includes:
Renovation and adaption of existing historic building, transforming the vacant dormitory building into 72 affordable apartments
Windows will be replaced for energy efficiency; windows will match the originals
Historic preservation will include preserving the façade details, preserving interior main hallways and stairwells with terrazzo flooring, and renovating administrative offices, resident lounge, former gymnasium, classrooms, and the chapel into historically reflective units.