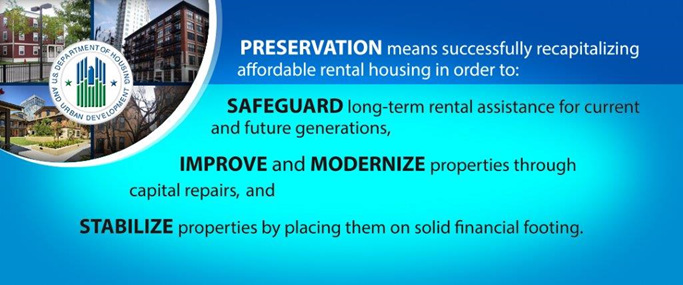 Office of Recapitalization

The Office of Recap is responsible for the preservation and recapitalization of federally assisted affordable housing and oversees and processes financial transactions to ensure the long-term physical and financial viability of affordable rental housing. In conducting the business of preservation of affordable housing, Recap is also responsible for ensuring compliance with relevant laws and statutes. The following programs are being implemented by Recap:
Mark-to-Market (M2M): This program preserves affordability and availability of low income rental multifamily properties with federally insured program. The purpose of M2M is to reduce rents to market levels by restructuring existing debt to levels supportable by these rents. The Green Initiative is also available through this program to assist owners in rehabilitating their properties in the most sustainable way feasible. For more information visit the Mark-to-Market web page.
Rental Assistance Demonstration (RAD): This program allows proven financing tools to be applied to at-risk public and assisted housing. RAD is a central part of the Department's rental housing preservation strategy, which works to preserve the nation's stock of deeply affordable rental housing, promote efficiency within and among HUD programs, and build strong, stable communities. For more information visit the RAD web page.
Section 236 Preservation: This program serves as a centralized processing model for the majority of Section 236 preservation activity through Recap. Section 236 property owners and purchasers will no longer submit applications to the Multifamily Hub or Program Center. This modification of HUD's current Section 236 transaction procedures is designed to streamline how Section 236 prepayment applications and related requests are processed, and to assign dedicated staff to oversee the complex work involved in these transactions. For more information visit the 236 Preservation web page.
Senior Preservation Rental Assistance Contracts (SPRAC): The Section 202 Supportive Housing for the Elderly Act of 2010, signed into law in January 2011, authorizes HUD to provide SPRACs with 20-year terms to prevent displacement of elderly residents of certain projects assisted under HUD's Section 202 Supportive Housing for the Elderly program in the case of refinancing or recapitalization and to further preserve and maintain affordability of Section 202 Direct Loan projects. The purpose of SPRACs is to prevent displacement of income-eligible elderly residents of Section 202 Direct Loan properties with original interest rates of 6% or less in the case of refinancing or recapitalization. SPRAC is an important preservation tool for affordable multifamily properties. Note: The SPRAC program has completed. For historial information email us at sprac@hud.gov.
---
Office of Recapitalization Staff Directory
The Weaver Federal Building, 451 7th Street, SW, Room 6230 Washington, DC 20410
Telephone: (202) 708-0001 |  Fax #1: (202) 708-5755  |  Fax #2: (202) 401-2994
Office of the Director Fax: (202) 708-5494  |  Office of Closing & Post Closing Fax:. (202) 708-0687
Office of the Director: Thomas R. Davis, Director  |  Benjamin E. Mann, Deputy Director
Program Administration: William Lavy, Director, (202) 402-2465
Closing & Post-Closing: Beverly Rudman, Director, (202) 402-8395
Transaction Division: Gregory Byrne, Director, (202) 402-6436
The Affordable Housing Transaction Divsion is comprised of the four branches listed below. All branches, excluding Branch 3, are listed in the Weaver Federal Building (address listed above). Branch 3 is located in Chicago at the address listed below. 
Branch 1 (RAD 1)
Alan Kaufman, Director (202) 402-4126

Branch 3 (RAD 1)
Gregory Byrne, Interim Director, (202) 402-6436

The Metcalfe Federal Building
77 West Jackson Blvd, Room 2301, Chicago, IL 60604
Fax (312) 886-4218

Branch 2 (RAD 2, 236 Preservation, M2M & SPRAC)
Minnie Monroe-Baldwin, Director, (202) 402-2636

Branch 4 (Post M2M, RAD 1)
Kara Williams-Kief, Director, (202) 402-5454
RAD: On May 17 and 18, HUD hosted "RAD Training 2018: Keys to a Successful RAD Conversion" for PHAs and partners initiating the conversion of public housing properties under RAD. The training materials including live recordings of each session is now available.
Mark-to-Market: M2M information now available on one web page. Visit the About Mark-to-Market web page for details. 
Multifamily Housing Preservation pages are now available on HUD Exchange. 
All inquiries and requests related to Post Mark-to-Market (Assumption Subordination and Qualified Non Profit) transactions should be submitted electronically to PostM2M@hud.gov. 
Need more information on Mark-to-Market (M2M)?  Access the M2M web page for more information.