Due to the lapse in Congressional Appropriations for Fiscal Year 2019, the U.S. Department of Housing and Urban Development (HUD) is closed. HUD websites will not be updated until further notice. For more information, see HUD Contingency Plan for Possible Lapse in Appropriations.
1/15/2019 EMPLOYEE UPDATE:
If you are planning to separate from a HUD facility during the furlough, you are responsible for returning Federal property that has been assigned to you. Return of property will alleviate any unnecessary delays when transferring to a new Federal agency, and the release of your final salary paycheck and lump sum annual leave if applicable. To receive instructions on how to return such property HQ separating employees should contact Nelson.R.Bregon@hud.gov and field office separating employees should contact Lisa.Surplus@hud.gov or patty.c.whitehouse@hud.gov. All property must be in good working condition.
1/14/2019 UPDATE:
For information regarding today's operating status and snow dismissal procedures, please visit OPM.gov.
1/11/2019 UPDATE:
Pay and Benefits Information for Furloughed Employees https://www.hud.gov/sites/dfiles/Main/documents/FactSheet-PayandBenefits.pdf.
Specific Program Shutdown Questions and Answers https://www.hud.gov/sites/dfiles/Main/documents/ShutdownFAQs.pdf.
1/9/2019 EMPLOYEE UPDATE:
Attached is the form for employees who choose to file a claim for unemployment compensation. This SF-8, Unemployment Compensation form, has been prepopulated with the pertinent HR information needed for your convenience. https://www.hud.gov/sites/dfiles/Main/documents/SF-8_Unemployment_Compensation-HUD.pdf
1/7/2019 EMPLOYEE UPDATE:
The EAP provides counseling, financial and legal services and convenient access by phone or on the web. Employees can call 800-222-0364 or (888) 262-7848 (TTY) from anywhere in the United States to receive immediate assistance, 24 hours a day, 365 days a year.
You can also obtain information and resources online at FOH4You.com (http://www.foh4you.com). On FOH4You.com, you will have easy access to educational materials, self-assessment tools, and specific information on available EAP services.
1/3/2019 UPDATE FOR EMPLOYEES:
OPM has set up a central lapse guidance page on their website, at www.opm.gov. This website provides special instructions for this lapse, and information to communicate with creditors, mortgage companies, and landlords. It is recommended you continue to check the HUD hotline 1-866-463-6483 for additional updates regarding the Federal government closure. For information about Federal Benefits during the shutdown click on this link.
National Lead Poisoning Prevention Week 2018 

OLHCHH Grantee utilize National Lead Poisoning Prevention Week
To build program awareness and capacity!
"We are using the NLPPW to create awareness of lead regulations to the Massachusetts Realtors Association. We will be speaking on lead abatement and disclosures to 100+ Realtors. Also producing podcast for Realtors statewide on the topic of lead." – City of Worcester, MA

"NLPPW is a great opportunity to get more people working on lead. We are meeting with local contractors to discuss grant opportunities. 40 firms anticipated to attend." County of North Hampton, PA

"We have decided to celebrate NLPPW by having a Proclamation of National Lead Poisoning Prevention Week in our community. We will use the focus of the observance to tell partners and citizens abut lead poisoning prevention and how to apply for resources" – City of Waterloo, IA
Each year, the U.S. Department of Housing and Urban Development, the U.S. Environmental Protection Agency, the Centers for Disease Control and Prevention, and our partners collaborate on a national outreach effort to observe National Lead Poisoning Prevention Week (NLPPW) , held this year from October 21-27.  NLPPW is a call to action to bring together families, individuals, community-based organizations, state and local governments and others, to increase lead poisoning prevention awareness and increase efforts to reduce childhood exposure to lead. NLPPW also highlights the many ways parents can reduce children's exposure to lead in their home environment and prevent its serious health effects. There are three key themes this year:
Get the Facts: Find out about the hazards of lead.
Get Your Home Tested: Find out how to minimize risks of lead exposure by hiring a certified professional to test older homes for lead.
Get Your Child Tested: A simple blood test can detect lead. Consult your health care provider for advice on testing your children.
The Partner Information Kit provides state and local governments and organizations with key materials and resources that are available for distribution to a wide array of audiences. The digital Partner Information Kit Includes:
Sample Social Media Package – Actively spread the word about National Lead Poisoning Prevention Week by sharing messaging on social media using the hashtags #LeadFreeKids and #NLPPW2018.
Posters – These may be customized to include an organization's logo and information.  
Flyers – These may be customized to include an organization's logo and information.  
Icons 
Web Banners – The following materials can be added to your website and are available in English.
2018 NLPPW Partner Information Kit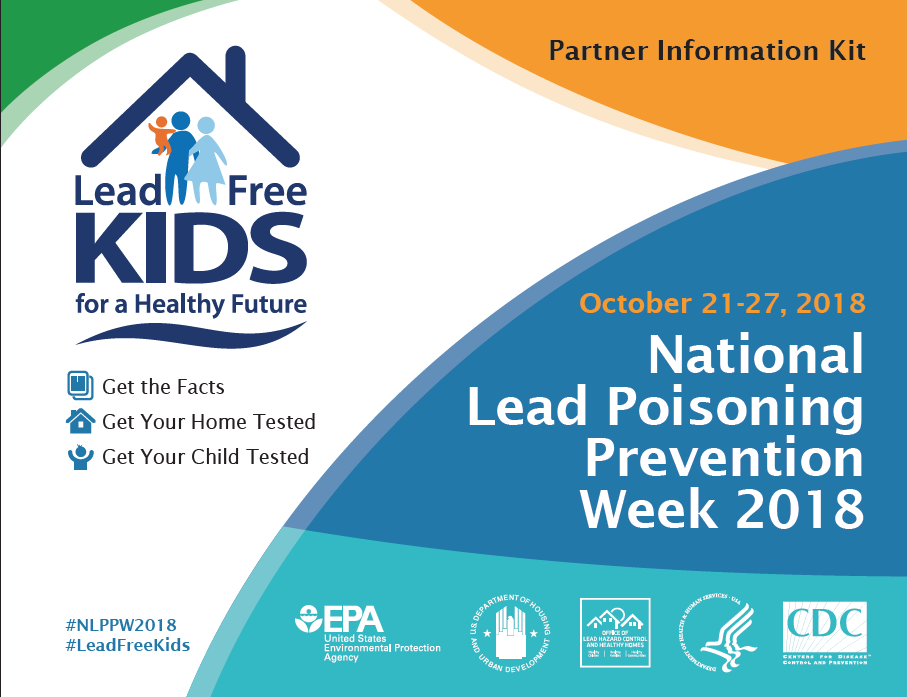 Lead Publications & Outreach Materials
Downloadable Resources