Welcome to National Lead Poisoning Prevention Week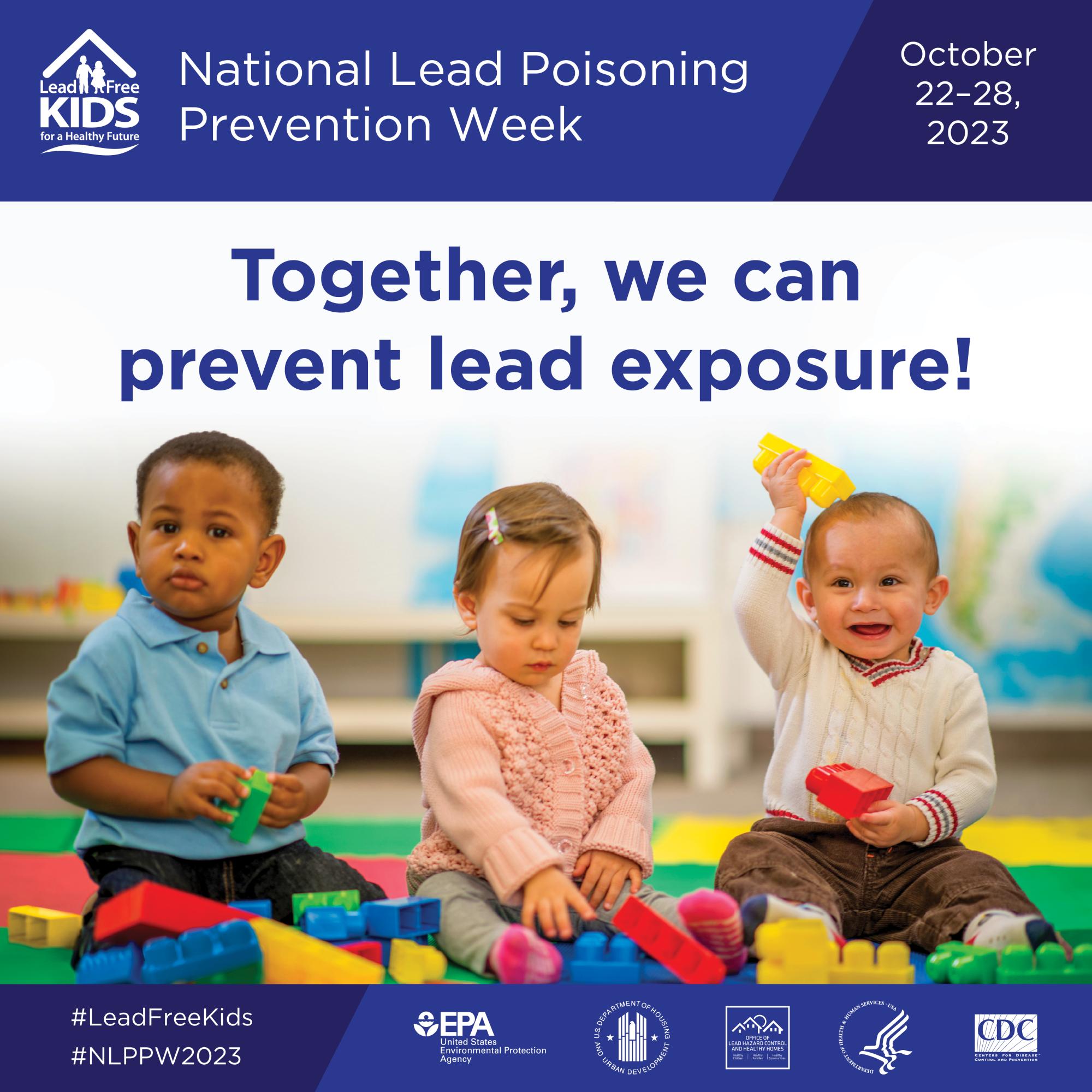 About 3.6 million American households have children under 6 years of age who live in homes with lead exposure hazards.
Each year, the Office of Lead Hazard Control and Healthy Homes joins the U.S. Environmental Protection Agency (EPA) and the Centers for Disease Control and Prevention (CDC) to observe National Lead Poisoning Prevention Week. In addition to the educational collaboration, the Department of Housing and Urban Development works closely with our grantees in communities across the nation, and within HUD, on NLPPW.
We encourage all of our stakeholders to use the resources on this page to support NLPPW and expand the reach of engagement, especially in disadvantaged communities.
The three agency partners have again established the following key messaging for NLPPW 2023:
Get the Facts: Find out about the hazards of lead.
Get Your Home Tested: Find out how to minimize risks of lead exposure by hiring a certified professional to test older homes for lead.
Get Your Child Tested: A simple blood test can detect lead. Consult your healthcare provider for advice on testing your children.
A key part of the toolkit is a social media package that includes sample social media posts and daily themes. Another important section is "Steps to Create Localized Outreach. The toolkit can be leveraged by organizations as diverse as urgent care centers, environmental agencies, chambers of commerce, poison control centers, and faith-based, social justice, and non-profit organizations.

The following resources and materials are also available for OLHCHH grantees, other stakeholders, and partners organizing outreach during NLPPW 2023 and are a starting point in developing customized messaging to meet the needs of different communities.

The Information Kit (ENGLISH) / (SPANISH)provides state and local governments and organizations with key materials and resources that are available for distribution to a wide array of audiences. The digital kit includes basic information about lead poisoning, steps to create localized outreach, and other customizable materials to support outreach events.
Sample Social Media Package (ENGLISH) / (SPANISH) Consider spreading the word about National Lead Poisoning Prevention Week by sharing messaging on social media using the hashtags #LeadFreeKids and #NLPPW2023

Follow on Twitter: @EPA - @EPAespanol - @CDCEnvironment - @HUDgov
Social Media Images - Use NLPPW 2023 social media images with any of the posts in the Sample Social Media Package and/or your own social media post.
Vertical Orientation - (160 x 600) - English, Arabic, Spanish, French, Korean, Russian Tagalog, Vietnamese and Chinese.
Horizontal Orientation - (728 x 102) - English, Arabic, Spanish, French, Russian Tagalog, Vietnamese and Chinese.
Other Resources
Lead Paint Safety Guide (English) (Spanish)

The Lead Paint Safety Field Guide for Interim Controls in Painting and Home Maintenance (2019) describes simple work
practices to protect children and workers from lead-based paint surfaces. This is a HUD publication with substantive input also
received from the U.S.. Environmental Protection Agency and the Center for Disease Control Prevention.


National Lead Information Center (NLIC)

The National Lead Information Center is an important asset for the general public and housing health professionals. The NLIC has a toll-free number at 1-800-424-LEAD, staffed by agents who can answer questions on a wide range of lead-based paint topics. The EPA maintains the NLIC with funding from HUD. Publications can be sent upon request. Callers have included healthy homes educators, community-based workers, public housing authorities, contractors, family members concerned about lead exposure to children, and many others.


Happy, Healthy, Lead-Free Me

The State of New Hampshire Department of Public Health Services, Childhood Lead Poisoning Prevention Program, recently released the children's board book Happy, Healthy, Lead-Free Me! is available to order by the case/40 books. Information is embedded below and available here. Order direct from the book's webpage www.leadfree.me For questions on purchasing, quotes, invoicing, or required vendor approval process email: info@cribsforkids.org Book available in many additional languages on www.leadfree.me

Interested in learning more about Lead from EPA, HUD, and CDC?