Operation Allies Welcome
Under a historic effort known as Operation Allies Welcome (OAW), the U.S. federal government is assisting Afghan arrivals with resettlement support services as they begin to rebuild their lives in the United States.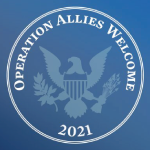 Overview
On August 29, 2021, President Biden directed the U.S. Department of Homeland Security (DHS) to lead implementation of ongoing efforts across the federal government to support vulnerable Afghans, including those who worked alongside the U.S. in Afghanistan for the past two decades, as they safely resettle in the United States.
Certain Afghan nationals who were evacuated from Afghanistan, and granted humanitarian parole into the United States, may be eligible for the U.S. State Department's Afghan Placement and Assistance (APA) Program.
The Program will assist them with initial relocation services for 30 to 90 days after arrival as they begin to rebuild their lives in the United States.
The State Department and the U.S. Office of Refugee Resettlement (ORR) within the U.S. Department of Health and Human Services (HHS) are leading these resettlement and integration efforts in close coordination with over 200 resettlement organizations and non-governmental organizations (NGOs), and in partnership with the generous help of state and local officials around the country.
Since OAW's inception, HUD has played a role by fielding questions from local refugee resettlement agencies, making community connections, and participating in federal interagency working groups with the goal of identifying creative, sustainable, and affordable housing solutions.
Resources
Housing Resources
More Information on OAW
Welcome to the Neighborhood Webinar Series: This webinar series is co-hosted by DHS/Federal Emergency Management Agency (FEMA) and HHS Centers for Faith-based and Neighborhood Partnerships.
Resources for HUD Staff & HUD Grantees