Blacks in Government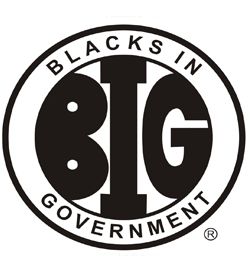 About BIG
Blacks In Government® (BIG) was established in 1975 and incorporated in 1976 by a small group of African Americans at the Public Health Services which is a part of the Department of Health, Education and Welfare in the Parklawn building in Rockville, Maryland. The organization was viewed as essential to the Black civil service employee, based on a wide assortment of racially motivated problems faced by the HEW Black employees in Rockville. Initially, it was thought that the umbrella organization would address only the problems at the Federal level. However, it was soon determined that State, County, and Municipal Black employees were faced with the same general type of employment problems. It was incorporated in 1979 and held its first national training conference in 1979.
BIG's purpose is to be an advocate of equal opportunity to African American's in government and that's in the local, state and federal sector. Yes, BIG has members that are state, local, and county government employees and we are happy to have a few in our Chapter. We also promote professionalism and develop programs that will enhance ethnic pride and educational opportunities for all government workers. BIG strives for equality in all aspects of American life, excellence in public service, and opportunity for all Americans.
Membership
"BIG membership is open to anyone regardless of race, color, gender, religion, national origin, age or disability."
The Robert C. Weaver Chapter of BIG meets every third Thursday of each month from 12:00 noon - 1:00 pm. Our membership drive is in the months of May and November, for membership, please contact Sandra J. Wright, (202) 402-5510.
2022 Events
The annual BIG's National Training Institute (NTI) will be held in Oxon Hill, MD, August 28th – 31st, 2023. This year's theme is: Accept the Challenge, Exceed the Standard Through Professional Development.
There will be no agency forum at this year's NTI. However, HUD's very own Jozetta R. Robinson will be serving as Mistress of Ceremony for the Closing Plenary on Thursday, August 31st.
Elected Officers
Stephan Matthews, Acting Chapter President
VACANT, Vice President
Sandra J. Wright, Treasurer
Cynthia R. Lane, Secretary
VACANT, Assistant Secretary
Sheila Hester, Assistant Treasurer
Links