HUD WINS 13 GEARS OF GOVERNMENT AWARDS!
Gears of Government Awards recognize individuals and teams across the Federal workforce whose dedication supports exceptional delivery of key outcomes for the American people, specifically around mission results, customer service, and accountable stewardship.
See HUD's 2020 awards below.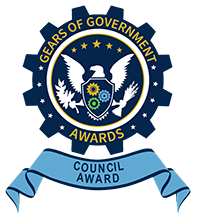 Chief Information Officers Council
---
Modernized five of HUD's most critical business systems by migrating them to a cloud-based application suite. Their work enabled functional and technical enhancements to be completed quicker at a lower cost, saving taxpayers $8 million.
Deobligation Recovery & Aged Audits Team
---
Returned $167 million in appropriations to the Office of Housing to support housing programs for low income, homeless, and struggling families nationwide. The funds will be utilized through HUD housing programs to encourage self-sufficiency and financial stability and to reduce the average length of homelessness.
FHA Customer Transformation Team
---
Streamlined refund and adjustment requests from lenders, saving staff over 2,100 hours of work time. Their efforts reduced request processing time from 60 to 21 days.
Fair Housing Risk Assessment Team
---
Used the Risk Assessment Tool to identify noncompliance with fair housing and civil rights requirements for more than 6,500 Community Planning and Development (CPD) grantees, Public Housing Authorities (PHAs), and multifamily property owners. Their work ensures housing equity and effective use of staff resources.
Veterans STEM Innovation Networks Team
---
Developed a national program empowering low-income youth through hands-on science, technology, engineering, and math activities. Their efforts impart learning strategies that help students spark and sustain a career in STEM.
HUD Fair Housing
Team
---
Negotiated a landmark ten-year agreement providing affordable accessible housing in LA. Their work breaks down barriers that were preventing those with disabilities from finding housing.
Housing Choice Voucher Utilization Dashboards Team
---
Created two interactive dashboards that display key performance metrics for the Housing Choice Voucher (HCV) program and the special purpose vouchers within HCV. This work gives PIH's leadership and field staff an accurate picture of national trends, assists in risk monitoring, and helps predict which PHAs have the potential for budget shortfalls.
Leveraging the Power of Innovation Team
---
Applied Robotics Process Automation to improve five processes across the organization. Their efforts saved over 5,000 staff hours, triggered a culture change, and laid the foundation for financial transformation.
Midwest Multifamily Technology Team
---
Developed an Annual Financial Statement review sheet that has generated over $250,000 man-hour cost savings per year per region. The tools they built standardize how work is completed, give staff access to vital information in an easy-to-use format, promote efficiency, and utilize data that was not previously available.
National Performance Metrics Dashboard Team
---
Developed the National Performance Metrics Dashboard that collects data from programs across HUD to set targets for critical Secretarial and Departmental initiatives. Their work helps teams understand what needs to happen in their community and then document their effort and results.
REAC ISDV
Team
---
Developed an app, Inspection ExAM4, now used to conduct an average of 5,000 inspections each month. By merging technology and data, the team streamlined the inspection process and increased customer satisfaction from 22% to 84%.
Home Equity Conversion Mortgage Claims Team
---
Managed the Federal Housing Administration's (FHA) reverse mortgage program, reviewing overdue Home Equity Conversion Mortgage Claims to reduce the significant backlog. By February 2019, the team had processed 14,195 claims, approving 94%, returning almost $3 billion back to the industry.
Financial Transformation Team
---
Streamlined business processes and improved internal controls that impact Financial Reporting in the CFO's Office of Accounting. The team has remediated a material weakness from FY's 2018 audit report, developed SOPs that will help close multiple audit recommendations, and improved data in the accounting systems to achieve greater compliance with the Digital Accountability and Transparency Act.
To learn more about what's happening around CX at HUD, visit us here.