EnVision Centers

Under the leadership of President Donald J. Trump, the Administration is committed to reforming government services and expanding opportunities for more Americans to become self-sufficient. The EnVision Center demonstration focuses on empowering people to leave HUD-assisted housing through self-sufficiency to become responsible homeowners and renters in the private market.  By doing so, HUD will be able to make those resources available to others and help more Americans.
The EnVision Centers demonstration is premised on the notion that financial support alone is insufficient to solve the problem of poverty.  Intentional and collective efforts across a diverse set of organizations are needed to implement a holistic approach to foster long-lasting self-sufficiency.  EnVision Centers will provide communities with a centralized hub for support in the following four pillars:  (1) Economic Empowerment, (2) Educational Advancement, (3) Health and Wellness, and (4) Character and Leadership.  The Economic Empowerment pillar is designed to improve the economic sustainability of individuals residing in HUD-assisted housing by empowering them with opportunities to improve their economic outlook.  The Education pillar seeks to bring educational opportunities directly to HUD-assisted housing and includes partnering with public and private organizations that approach education in non-traditional ways on non-traditional platforms.  The Health and Wellness pillar is designed to improve access to health outcomes by individuals and families living in HUD-assisted housing.  The Character and Leadership pillar is designed to enable all individuals and families residing in HUD-assisted housing, especially young people, to reach their full potential as productive, caring, responsible citizens by encouraging participation in volunteer and mentoring opportunities.
Through results-driven partnerships with federal agencies, state and local governments, non-profits, faith-based organizations, corporations, public housing authorities (PHAs), tribal designated housing entities (TDHEs) and housing finance agencies, EnVision Centers will leverage public and private resources for the benefit of individuals and families living in HUD-assisted housing.  HUD anticipates that positive outcomes for individuals and households will generate additional positive impacts at the community-wide level.  EnVision Centers will also break down the silos of government, and co-locate government services that lead to self-sufficiency.  
A January 2011 report from the Government Accountability Office (GAO) that focused on Temporary Assistance for Needy Families, Employment Services and Workforce Investment Act Adult employment programs funded by the U.S. Departments of Labor, Education, and Health and Human Services, found that while it would be a challenge, efficiencies in offering government services could be achieved by co-locating services and consolidating administrative structures.  EnVision Centers will bring together in one place, federal, state and local government services, community based organization services, non-profit mission based organization services and faith based organization services that lead economic self-sufficiency and ultimately, greater economic mobility.
---
MISSION
To empower Americans to lead self-sufficient lives.
---
VISION
A housing system that measures success by the number of residents empowered to leave public housing through self-sufficiency rather than the number who enter public housing.
---
FOUR PILLARS OF OPPORTUNITY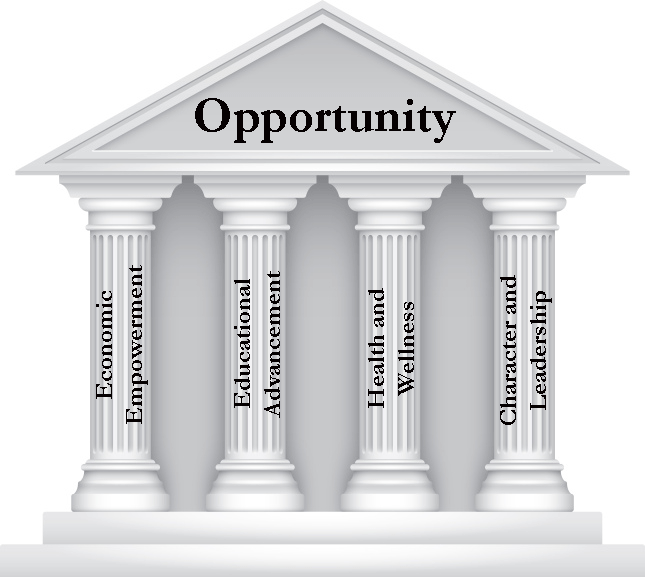 EnVision Centers will offer support and measure success based on four pillars of opportunity.
---
GOALS
---
ENVISION CENTER PARTICIPATION
Residents will be able to engage with EnVision Center services in three ways, through a physical EnVision Center, by downloading the EnVision Center Mobile App and by visiting an organization that is a part of the EnVision Network.