How Does RAD Impact Me?
This page is intended to provide residents who live in a building being converted under RAD with helpful information to supplement notifications communicated directly to residents by the PHA.
RAD Residents Rights in Public Housing
As a resident of a public housing property that is participating in RAD you have the following rights:
Prior to conversion
- Receive notice and participate in meetings
- Comment on the conversion plans
At conversion
- To maintain residency in the property
- If temporary relocation is necessary, you are provided relocation protections and a right to return
After conversion
- Pay no more than 30% of adjusted income in rent
- Right to participate in a resident organization
- Right to exercise "ChoiceMobility"
- Your lease must be renewed and you cannot be evicted without cause • Right to termination and grievance procedures.
For more information, take a look at the "RAD Resident Rights in Public Housing" brochure. (Full Color Version for Online Viewing | Printable Version)
Other Information
---
Mod Rehab and Mod Rehab SRO Properties
New Fact Sheet for Residents of Mod Rehab and McKinney Mod Rehab SRO properties. The fact sheet provides an overview of the process for converting Section 8 Moderate Rehabilitation (Mod Rehab) and McKinney Mod Rehab Single Room Occupancy (SRO) properties through the Rental Assistance Demonstration (RAD).
New! RAD Complaint Process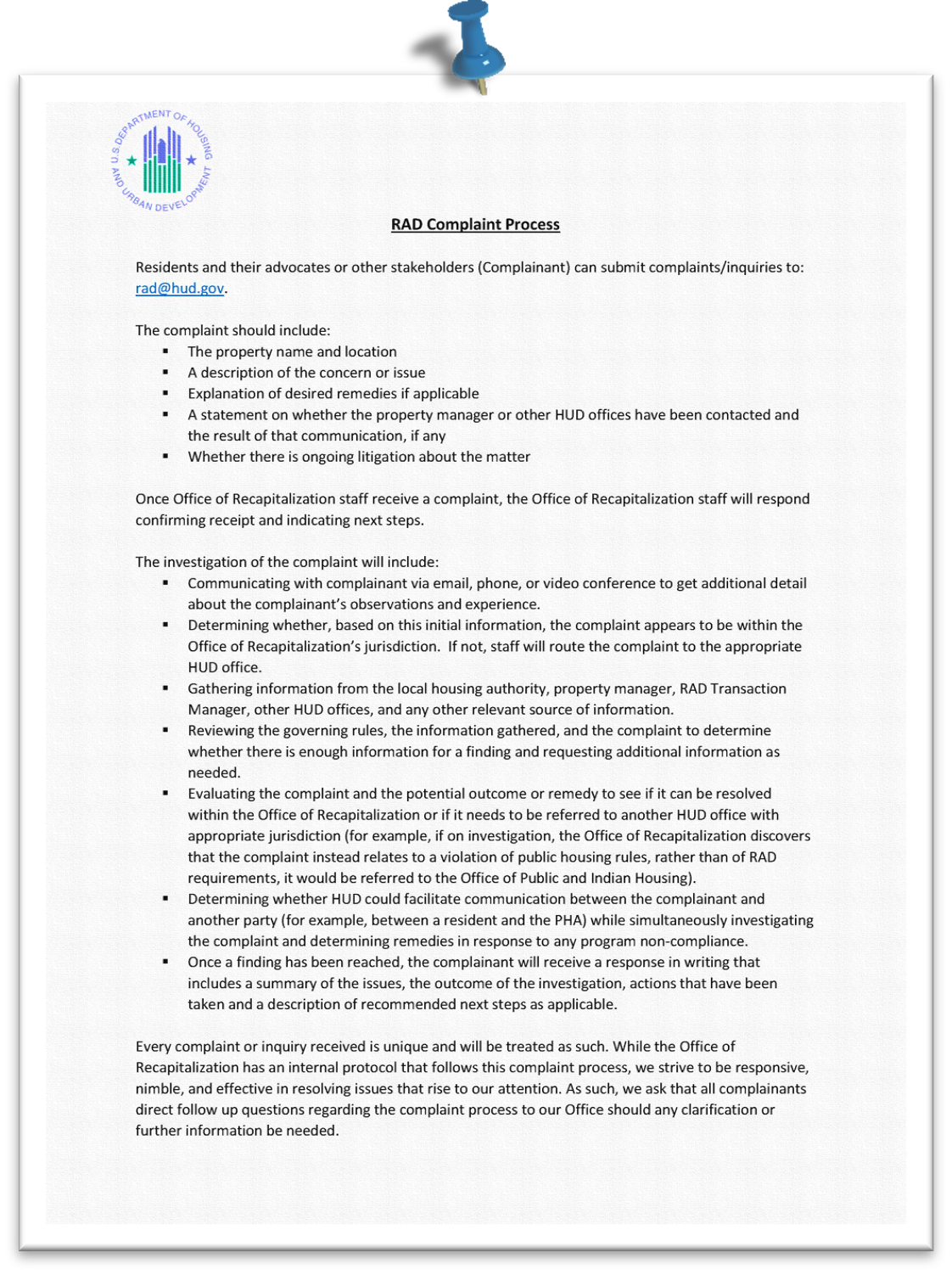 Read more on the RAD Complaint Process for residents and their advocates or other stakeholders.
Full Color Version for Online Viewing