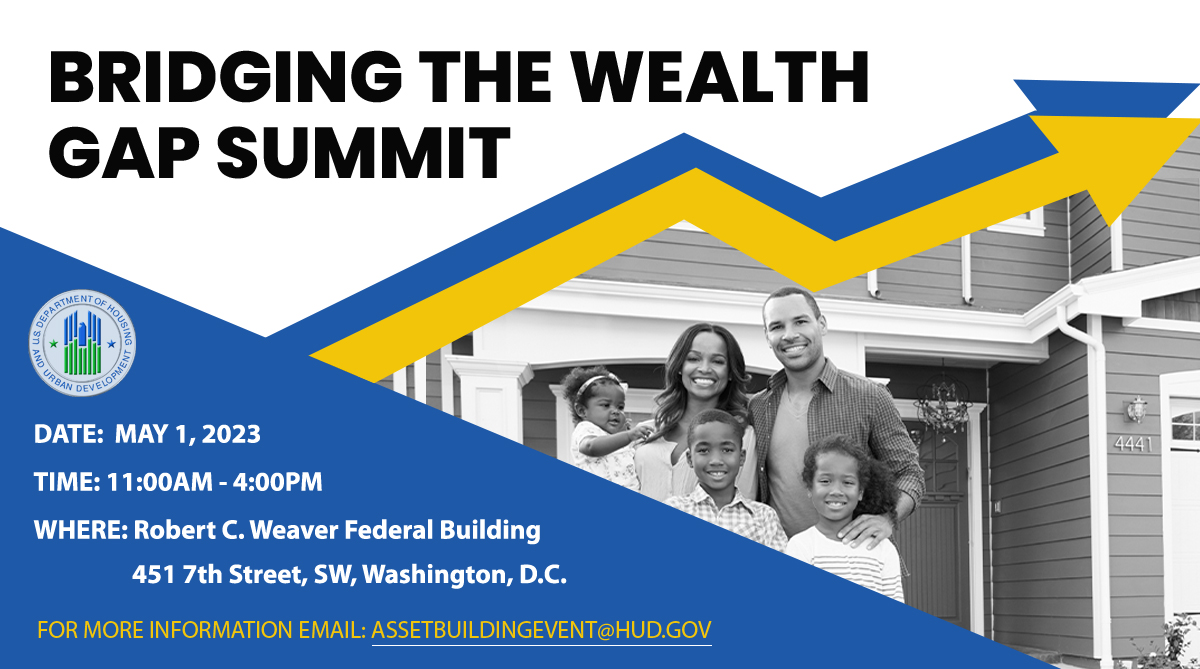 BRIDGING THE WEALTH GAP: ASSET BUILDING AND ECONOMIC JUSTICE SUMMIT
Monday, May 1, 2023
11am – 4pm ET,
Robert C. Weaver Federal Building, 451 7th Street, SW, Washington, D.C. 20410
Virtual option available
In addition to housing, asset building, and financial empowerment are key components of HUD's efforts to support those who have been historically underserved. During this hybrid convening, attendees will hear from HUD leadership and peers about the importance of leveraging housing as a platform to build assets and work toward economic justice. Participants will engage with community leaders, staff from across the federal government, policy experts, affordable housing practitioners, and other stakeholders in the field.
The event agenda is below.
Agenda:
Welcome & Opening Remarks by Secretary Marcia L. Fudge
11:00am – 11:10am
Brooke Mondale Auditorium
Opening plenary – Understanding the Asset Building Journey
11:15am – 12:00pm
Brooke Mondale Auditorium
This panel will feature the stories and experiences of people who've participated in asset building programs or on the front lines of service delivery. Their stories will help inform best practices and lend insight into what it means to promote economic justice.
Moderator:
Adjoa Asamoah, Senior Advisor for Racial Equity, HUD
Panelists:
Akirah Pressley, Special Education Assistant Philadelphia School District and Ambassador for Family Self Sufficiency Program
Shantel Macon, Client Outreach and Engagement Specialist, Compass Working Capital
Walda Yon, Chief Housing Programs Officer, Latino Economic Development Center
Lunch
12:00pm – 1:00pm
Practitioner Perspective
1:10pm – 1:20pm
Brooke Mondale Auditorium
Attendees will reconvene to celebrate the accomplishments of the asset building field and underscore the present opportunity to move forward with an economic justice frame.
Speaker: Markita Morris-Louis, CEO of Compass Working Capital
Breakout Sessions
1:30pm – 2:45pm
(Breakout sessions will only be available in person)
Potential Policy Changes to Federal Programs to Support Asset Building
This breakout will discuss the policy changes that can be made across HUD and the federal government to increase asset building.
Potential Federal Support and Resources for Asset Building
Congressional appropriations and other support can aid the development of asset building programs. This breakout will discuss how the sector can build broad support for asset building and align existing resources for such purposes.
The Housing Continuum and Multigenerational and Intergenerational Approaches to Asset Building
As people move from subsidized housing to non-subsidized housing, and potentially towards homeownership, their financial needs and goals change. Interventions to help families build savings and assets must consider changing needs while also supporting multigenerational approaches.
Barrier Removal & Building Assets Responsibly
Lower-income renters may face additional barriers to building assets and savings. This breakout will discuss effective trauma-informed and culturally responsive strategies that reduce barriers. Similarly, as we think about alternative asset building products, we must weigh the benefits and risks of such alternatives and not exacerbate barriers.
Innovative Models, Practices, and Ideas for Asset Building
The field continues to grow and there are new financial products, programs, and practices stemming from innovative ideas. This breakout session will promote innovative models for scale and discuss ideas to move us towards the next generation of asset building programs.
Research & Turning Research into Narrative Change
Research and program evaluation lend critical insights into policy and practice. Similarly, narratives are critical to indicating the impact of programs and research. This discussion will focus on research in the field and how to turn research into powerful stories and narratives.
The Future of the FSS Program
The Family Self-Sufficiency (FSS) Program has demonstrated an ability to help residents of HUD-assisted housing build savings and assets. This breakout will discuss the unique opportunities of the FSS program moving forward.
Break
2:45pm – 3:00pm
Closing plenary – Policies and Next Steps for the Biden-Harris Administration
3:10pm – 4:00pm
Brooke Mondale Auditorium
This panel will wrap up and summarize the insights provided throughout the day. Officials across the Biden-Harris Administration will discuss asset building in the current political environment and discuss the Administration's goals. The panel will highlight federal efforts, as well as next steps to act on the ideas presented throughout the summit.
Moderator:
Victoria Brown, Deputy Chief of Staff for Policy, HUD
Panelists:
Chad Maisel, Special Assistant to the President for Housing and Urban Policy, Domestic Policy Council
Diane Thompson, Senior Advisor, Office of the Director, Consumer Financial Protection Bureau
Dr. Gbenga Ajilore, Senior Advisor Office of the Undersecretary for Rural Development, U.S. Department of Agriculture
Raessa Singh, Senior Advisor, Administration of Children and Families, U.S. Department of Health and Human Services